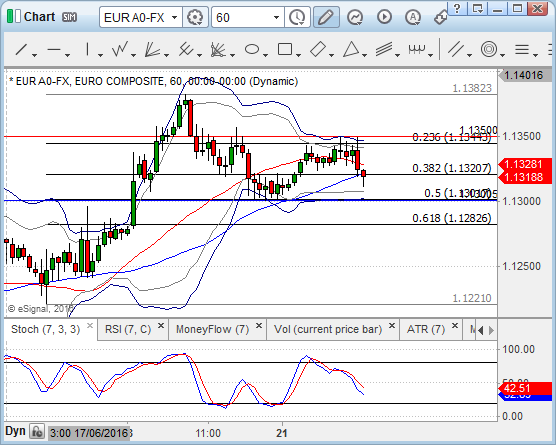 EURUSD, 60 min
Draghi's promise to do "whatever it takes" to safeguard the Eurozone came with the promise of the OMT (Outright Monetary Purchases) and helped to end the debt crisis. Germany's top court today finally gave its final clearance after initially referring it back to the EU's top court, although with a caveat with the German Constitutional Court voicing concerns, but saying they were bound by the EU ruling, which argued that the plan contained sufficient safeguards to prevent the bond purchases from being disproportionate.
Germany's Ifo institute said the ruling was a "pity", because it is "obvious that the OMT primarily pursues the fiscal aim of maintaining credit access for highly indebted states". The Ifo would have liked the court to set tighter rules for the Bundesbank's participation in the program. The ZEW meanwhile said the ruling is "very Europe friendly", saying the focus on the implementation of the program in the ruling, means government and parliament will need to watch how the OMT is implemented, but also that "financial markets can now relax". Germany has been trying to safeguard the ECB's prohibition of direct government financing, but it seems the pressure for a mutualisation of costs and risks is getting ever stronger and the critics see the OMT as one step in the direction of direct financing.
EURUSD is attracting some buying after the ruling was published but resistance levels are near. The nearest intraday resistance is at 1.1330 with the next intraday resistance at 1.1340. Intraday support at 1.1320. ECB's Draghi will speak in about one hour's time and might cause some extra volatility in the pair. I advise to reduce risk and when necessary to exit geared positions before an event that might move the markets in unpredictable ways.
Want to learn to trade and analyse the markets? Join our webinars and get analysis and trading ideas combined with better understanding on how markets work. Click HERE to register for FREE! The next webinar will start in:
Janne Muta
Chief Market Analyst
HotForex
Disclaimer: This material is provided as a general marketing communication for information purposes only and does not constitute an independent investment research. Nothing in this communication contains, or should be considered as containing, an investment advice or an investment recommendation or a solicitation for the purpose of buying or selling of any financial instrument. All information provided is gathered from reputable sources and any information containing an indication of past performance is not a guarantee or reliable indicator of future performance. Users acknowledge that any investment in FX and CFDs products is characterized by a certain degree of uncertainty and that any investment of this nature involves a high level of risk for which the users are solely responsible and liable. We assume no liability for any loss arising from any investment made based on the information presented here.