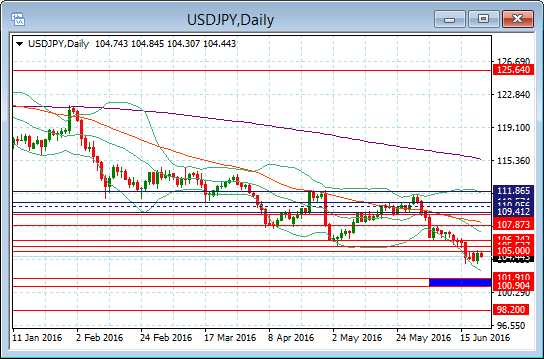 USDJPY, Daily         
The Japanese Yen
The fallout on Friday from a Brexit vote would reverberate around all financial markets, from Commodities to Stocks to Bonds and of course Currencies.  There would be winners and loser's huge volatility and certain uncertainty. The vote is far too close to call but my view remains (no pun intended) that the UK population, with 10-11% of the electorate still undecided, will decide its "better the devil you know" and vote to Remain in the EU.
One day to go now and the polls continue to point to a too-close-to-call outcome. The FT's poll tracker is showing Leave with 45% support and Remain with 44% support, with the former gaining one percentage point at the latest update. UK bookmaker Ladbrokes continues to show an implied probability of the UK remaining in the EU of 76%, unchanged from yesterday and showing a much more confident view than polls would suggest on the idea that the status quo option in referendums tends to have the advantage. While the possible market reactions on Friday are clinically polarized — the one being a sterling and euro risk-on trade and the other being a sterling and euro negative risk-on trade — there is also a likelihood of protracted uncertainty if the Remain side win by only a narrow margin. This would embolden Brexiters, embittered after the loss, to carry on the fight. This could in turn maintain longer-term uncertainties for sterling markets.
All that said the greatest beneficiary of a Brexit is the Japanese Yen, Swiss Franc and GOLD. Of the three the YEN would appreciate furthest even with BOJ intervention.  USDJPY 101.90 – 100.90 remains a possible intervention zone prior to the key psychological 100.00. Further down 98.20 and even 95.00 are not unrealistic. In an uncertain post Brexit world risk off would prevail for some considerable time.
Want to learn to trade and analyse the markets? Join our webinars and get analysis and trading ideas combined with better understanding on how markets work. Click HERE to register for FREE! The next webinar will start in: 
Stuart Cowell
Market Analyst 
HotForex
Disclaimer: This material is provided as a general marketing communication for information purposes only and does not constitute an independent investment research. Nothing in this communication contains, or should be considered as containing, an investment advice or an investment recommendation or a solicitation for the purpose of buying or selling of any financial instrument. All information provided is gathered from reputable sources and any information containing an indication of past performance is not a guarantee or reliable indicator of future performance. Users acknowledge that any investment in FX and CFDs products is characterized by a certain degree of uncertainty and that any investment of this nature involves a high level of risk for which the users are solely responsible and liable. We assume no liability for any loss arising from any investment made based on the information provided in this communication. This communication must not be reproduced or further distributed without our prior written permission.