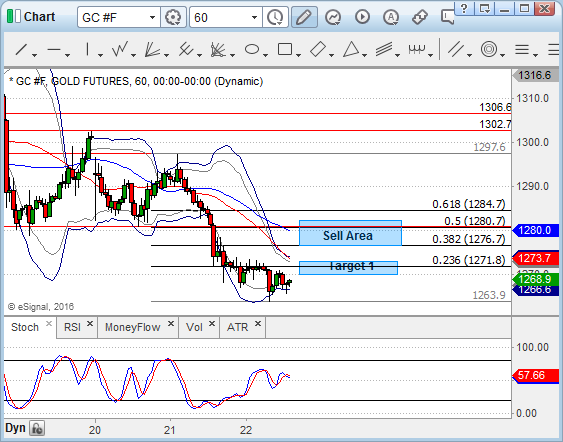 Gold, 60 min
Yesterday in her prepared testimony before the Senate Banking Committee the Fed Chair Yellen repeated her view that the Fed will continue raising rates cautiously. She said that she's optimistic on further growth although she noted there are still considerable uncertainties over the outlook. The Fed is monitoring the job market carefully to see whether the weakness in the May report was transitory, she said, and added it is important not to react to one or two reports. On the positive front, Yellen said spending has picked up smartly while housing is recovering but cautioned that the Fed can't dismiss the slow productivity growth.
Her comments didn't have significant impact on gold futures. Rather it seems that the price of gold has been following the improved sentiment on Brexit. In the longer term, Fed decisiveness on sticking to the rate hikes could be a risk to gold bulls. The result will obviously depend on other factors as well. While rate hikes should create selling pressure for gold they could turn the stock market lower as well. In addition to safe haven buying amongst the ordinary investors this would increase money managers' need for diversification in their portfolios. Historically gold and stock markets have had an inverse correlation and in the times of stock markets experiencing trouble reallocating assets from stocks to gold can help to diminish volatility in the portfolios.
This week however everything is about the Brexit vote. There could be a rally before the result is clear and published but should the remain campaign win, like we do believe it will, this rally should be an opportunity to sell at higher prices.
Since our Live Analysis Webinar a week ago gold tried to rally beyond the high of $1306 but failed to attract sufficient demand to stay above the level. This led to the market correcting considerably. Gold broke below the 1280 support in yesterday's trading thus creating a resistance at the level. Since then it has remained in a relatively tight 60 min channel that is sloping downward. There is some minor intraday support at 1264 – 1267 while the downward sloping channel is top is currently at 1270. I expect the very near term movements to be defined by these technical factors while the more significant S&R levels can be found in the daily picture at 1251 and 1280. In the daily picture gold is currently getting oversold as per Stochastics Oscillator (7.3.3)
The current price action in smaller timeframe charts support the view that gold will move higher from the 1267 support. If price breaks above 1270 momentum could carry on and could bring it up to the 1280 resistance. I'm therefore looking for short entry signals between 1276.50 and 1283 with Target 1 at 1271 – 1273 and Target 2 at 1259 – 1262.
The above analysis is relevant if gold moves to the Sell Area relatively quickly and reacts to it promptly well before the referendum results are published. If price happens to be at or inside the area when the results are published the liquidity could be low thus increasing the risk of unruly market moves. As per usual I am advising that  all clients refrain from geared positions at the time of major news publication.
Want to learn to trade and analyse the markets? Join our webinars and get analysis and trading ideas combined with better understanding on how markets work. Click HERE to register for FREE! The next webinar will start in:
Janne Muta
Chief Market Analyst
HotForex
Disclaimer: This material is provided as a general marketing communication for information purposes only and does not constitute an independent investment research. Nothing in this communication contains, or should be considered as containing, an investment advice or an investment recommendation or a solicitation for the purpose of buying or selling of any financial instrument. All information provided is gathered from reputable sources and any information containing an indication of past performance is not a guarantee or reliable indicator of future performance. Users acknowledge that any investment in FX and CFDs products is characterized by a certain degree of uncertainty and that any investment of this nature involves a high level of risk for which the users are solely responsible and liable. We assume no liability for any loss arising from any investment made based on the information presented here.