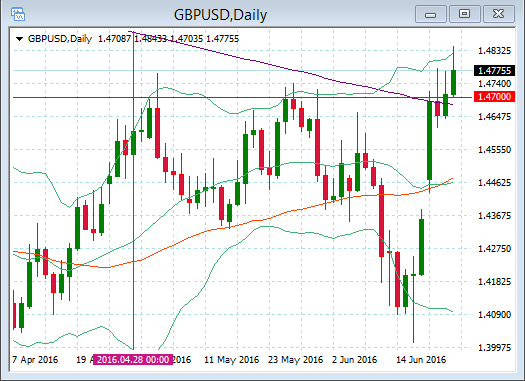 GBPUSD, Daily         
U.K. Referendum Day: The day of the U.K.'s referendum on EU membership if finally here, although polling stations don't close until 21:00GMT and results won't be in until early Friday. FT and Economist opinion poll trackers give the "remain" camp a slight lead, but also suggest a tight outcome, that could still go either way. If the U.K. really votes for an exit from the EU it would likely cause considerable turbulences tomorrow, as markets now seem to be going with bookmakers, who are giving good odds for "Bremain".
Central bank officials have stressed that they stand ready and are prepared to step in and provide additional liquidity to cope with the short term fallout, but the longer term impact will be much more difficult to predict and deal with. The short term impact aside, biggest risk is that the U.K. vote would just be the start of a general unravelling of the EU, as protest parties elsewhere jump on the band wagon.
The bookmakers are clearly tilting towards Remain causing GBPUSD to rally as high as 1.4830 overnight and closed yesterday over the key pivot point of 1.4700 and above the 200 DMA.  However, the bookmakers are only reflecting the volume of money placed and as Mathew Shaddick  Labrokes Head of Politics noted yesterday :
"On the eve of referendum day we face a very similar scenario to last year's general election. Back then, the polling averages showed a tie between Labour and the Tories, whilst the betting markets gave the Conservatives an 80 per cent chance of being the largest party.
This time, the polling averages have it as a dead heat, yet the bookies are rating the chances of a Remain vote at 76 per cent. Of course, it's a bit of an unfair comparison; pollsters aren't paid to predict anything, just to provide a snapshot of public opinion at a given time. That's proving tricky enough, as shown by the very different results being generated by phone and online polls.
So, should we be following the money again? Maybe not: the huge rally on the financial markets and the big swing to Remain on the betting this week seem curious. Many people assumed it was anticipating some very good polling news for the Remain camp, but that didn't really happen – the recent surveys have just confirmed that this is very, very close. It's widely expected that the status quo side will improve somewhat on polling day (because that's what tends to happen in these sorts of referenda), but that factor should already have been priced in.
One interesting pattern in the betting for this vote has been that whilst 75 per cent of the money staked has been for Remain, the majority of actual bets have been for Leave. That's because the average bet stake for Remain is around £450, for Leave it's just £70."
Sterling remains strong this morning with GBPUSD trading at 1.4780 and EURGBP at 0.7670.
As always, do what is probable and trade with strict risk management, this is a once in a generation fundamental news event for the GBP with repercussions for many asset classes.
Want to learn to trade and analyse the markets? Join our webinars and get analysis and trading ideas combined with better understanding on how markets work. Click HERE to register for FREE! The next webinar will start in: 
Stuart Cowell
Market Analyst 
HotForex
Disclaimer: This material is provided as a general marketing communication for information purposes only and does not constitute an independent investment research. Nothing in this communication contains, or should be considered as containing, an investment advice or an investment recommendation or a solicitation for the purpose of buying or selling of any financial instrument. All information provided is gathered from reputable sources and any information containing an indication of past performance is not a guarantee or reliable indicator of future performance. Users acknowledge that any investment in FX and CFDs products is characterized by a certain degree of uncertainty and that any investment of this nature involves a high level of risk for which the users are solely responsible and liable. We assume no liability for any loss arising from any investment made based on the information provided in this communication. This communication must not be reproduced or further distributed without our prior written permission.