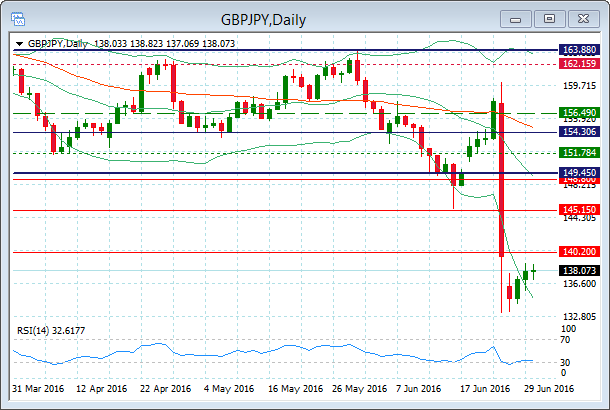 GBPJPY, Daily         
Brexit: Don't be fooled by the prevailing calmness in sterling markets. The FTSE 250 remains about 7% below pre-Brexit levels, and the pound is still some 10% lower. A survey of 700 economists by Consensus Economics found a consensus expecting that stagflation will be the initial fate of the UK economy, and this before the UK actually breaks from the EU (which is looking like 2019 or 2020). Growth is expected to shrivel by 0.5 of a percentage point to 1.4% this year, and ebb to just 0.4% in 2017, down from the pre-Brexit estimate for 2.1%. CPI is expected to rise to 2.2% in 2017, up from 0.3% currently. The UK has already lost its triple A rating from S&P and Fitch, and Moody's has it on negative outlook, citing that a "prolonged period of uncertainty" lies ahead. Moody's also lowered its outlook for the UK banking system, saying is expects "reduced demand for credit, higher credit losses and more volatile wholesale funding conditions for UK financial institutions." Much will depend on the relationship the UK hammers out with the EU, but negotiations between the UK and EU won't start for at least another three months while the EU has made it clear that the UK cannot have unfettered access to the single market while closing its border — something that Brexit campaigners had gambled against happening.
GBPUSD has slipped to 1.3410 with 1.3500 and 1.3575 key resistance levels, EURGBP trades at 0.8270 and GBPJPY at 138.00.  As it's the last day of the month, quarter and first half of the year it was always going to be an interesting day. The ever eloquent BOE's Mr. Carney speaks at 15:00 GMT with a post Brexit update.
Click here to access the HotForex Economic calendar.
Want to learn to trade and analyse the markets? Join our webinars and get analysis and trading ideas combined with better understanding on how markets work. Click HERE to register for FREE! The next webinar will start in:
Stuart Cowell
Market Analyst
HotForex
Disclaimer: This material is provided as a general marketing communication for information purposes only and does not constitute an independent investment research. Nothing in this communication contains, or should be considered as containing, an investment advice or an investment recommendation or a solicitation for the purpose of buying or selling of any financial instrument. All information provided is gathered from reputable sources and any information containing an indication of past performance is not a guarantee or reliable indicator of future performance. Users acknowledge that any investment in FX and CFDs products is characterized by a certain degree of uncertainty and that any investment of this nature involves a high level of risk for which the users are solely responsible and liable. We assume no liability for any loss arising from any investment made based on the information provided in this communication. This communication must not be reproduced or further distributed without our prior written permission.