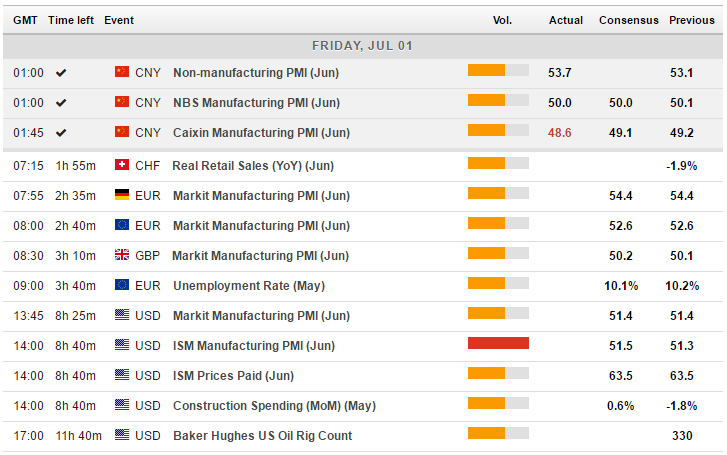 FX News Today
China's June manufacturing PMI figures were weak as the global slowdown likely weighed. The official PMI slipped to 50.0, right on the expansion/contraction line, from 50.1 in May. It's held only fractionally above that level since March, after being in contraction from August 2015 to February 2016. Employment and new orders softened further. However, the service sector index rose to 53.7 from 53.1 Meanwhile, the June Caixin PMI fell to 48.6 from 49.2 in May. It's the lowest reading since February and was 49.4 a year ago. The index has been in contraction since February 2015.
Japanese data reports were lackluster and disappointing in May and June, which will add to fears of a slowing in global growth after Brexit. And most worrisome, the recent strength in JPY will keep the economy on poor footing. The Tankan was unchanged at 6 for the September forecast, versus the June and March prints, though it's only half of the 12 posted in September and December, and was 15 a year ago. The non-manufacturing index fell to 19 from 22. The Nikkei PMI improved to 48.1 for the final June print versus 47.7 in May, but remained in contractionary territory for a 4th straight month. Meanwhile household spending fell 1.1% y/y in May, after a 0.4% y/y slip in April. CPI remained soft too, with the National index posting a 0.4% May decline after -0.3% in April. The core rate also fell 0.4%. Housing starts accelerated to a 9.8% y/y pace from 9.0%, while May construction orders surged 34.5% from -16.9%.
Stimulus and rate cuts ahead from the BoE. Bank of England Governor Mark Carney said yesterday that the Bank of England would probably have to pump more stimulus into Britain's economy over the summer after the shock created by of last week's vote to leave the European Union. He indicated that the would be an interest rate cut over the summer.
S&P cut its EU credit rating to AA, stable, from AA , negative. The ratings agency is reassessing its opinion of political cohesion (now it's a neutral rather than positive ratings factor) within the union after Brexit and worries over diminishing fiscal flexibility. Meanwhile, Fitch earlier indicated it doesn't anticipate any immediate negative actions, but such are more likely if there are severe economic dislocations. Brexit will increase political risks in Europe, said Fitch, and have adverse effects on other EU economies. But, for now, public debt remains the key driver for EU sovereign ratings.
Fed's Bullard did not discuss Brexit fallout in his prepared remarks before the Society of Business Economists' dinner from London. Indeed, his speech is a repeat of his June 17 comments where he called for no more than 1 rate hike over the next 30 months (the time horizon of the FOMC's forecasts). Bullard, a voter, has turned quite dovish again in his outlook and is likely to support no change in policy this year.
Fed's Kaplan: jury is out on what Brexit means for UK and EU growth, he said in a Bloomberg interview. However, he added the uncertainty over the spillover effects may slow growth. Indeed, Brexit occurred when global growth was already sluggish or disappointing. He'll watch to see if there is any "contagion." But, he also said there's likely to be "convergence between what we're planning on doing and what he market thinks we are going to do." St Louis Fed's Bullard is likely to echo similar sentiments at his speech from London later today.
Main Macro Events Today
EUR Manufacturing PMI: The June Euro Area manufacturing PMI is expected to come in unchanged. The May number was confirmed at 52.6 reflecting optimism in the Euro Area economies.
US Construction Spending: May construction spending data is out Friday and should reveal a 0.7% (median 0.7%) increase for the headline. This follows a big 1.8% April dip but stronger figures of 1.5% in March and 1.4% in February.
US Manufacturing ISM: June ISM is out on Friday and should reveal a slight headline decline to 51.0 (median 51.3) from 51.3 last month and 50.8 in April.
Want to learn to trade and analyse the markets? Join our webinars and get analysis and trading ideas combined with better understanding on how markets work. Click HERE to register for FREE! The next webinar will start in:
Janne Muta
Chief Market Analyst
HotForex
Disclaimer: This material is provided as a general marketing communication for information purposes only and does not constitute an independent investment research. Nothing in this communication contains, or should be considered as containing, an investment advice or an investment recommendation or a solicitation for the purpose of buying or selling of any financial instrument. All information provided is gathered from reputable sources and any information containing an indication of past performance is not a guarantee or reliable indicator of future performance. Users acknowledge that any investment in FX and CFDs products is characterized by a certain degree of uncertainty and that any investment of this nature involves a high level of risk for which the users are solely responsible and liable. We assume no liability for any loss arising from any investment made based on the information presented here.