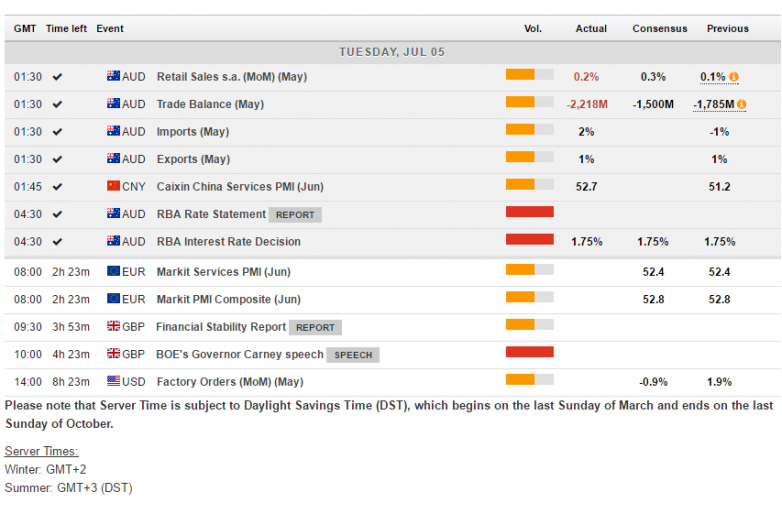 FX News Today
European Outlook: Asian stock markets outside of mainland China headed south US and UK stock futures are also down. A stronger Yen weighed on Japanese markets and lower oil prices saw energy companies retreating. The front end WTI future fell below USD 49 per barrel as global growth concerns flare up again. That the U.K's departure from the EU will hit growth on both sides of the channel is becoming clear and global growth concerns are also flaring up again. Growth indicators are starting to move back in focus and fresh concerns about Italy's banking system are weighing on the Eurozone, while the political chaos in the U.K. continues. The main players of the "Leave" campaign now have both resigned and both major political parties seem in disarray, which only adds to the confusion about the long term relationship between the U.K. and the rest of the EU.
AUD leaves cash rate unchanged at 1.75%: Keys points from Governor Stevens's statement include: Global markets have been volatile, but inflation low and likely to remain so. Australian growth set to continue, low interest rates are encouraging domestic demand and a rising AUD could complicate economic adjustments. The impact of Brexit to global economy remains to be seen. Statement viewed as less dovish than expected. Key data will be CPI figures due July 27 to inform their August decision.  Earlier Retail sales were much weaker than expected, the AUDUSD spiked to 0.7543 before falling back to 0.7500 and is currently trading at 0.7520..
UK Business Expectations drops sharply following Brexit:  UK business pessimism doubles in the week following Brexit with 49% of surveyed businesses pessimistic on the economic outlook for the next 12 months compared to 25% pre-Brexit. An index published by YouGov and the Centre for Economics and Business Research also fell from 112.6 to 105 in the three days following the referendum.  Cebr Director Scott Corfe commented to Bloomberg. "Not only are businesses feeling much more pessimistic in general about the state of the economy, but their own expectations for domestic sales, exports and investments over the next 12 months have gone off a cliff." Bloomberg also reported that over 75% of economists that they surveyed expect the UK to slip into recession.
Australian Retail Sales miss: Low 0.2% growth in Retail sales missed expectations of 0.3% and the previous month was revised down to 0.1% from 0.2%. Deflation remains a potential problem and adds weight to the hawks on the RBA wanting to see an interest rate rise. Retail sales topped AUD290 billion last year and the sector is Australia's second largest employer with 1.25 million workers. John Durkan, managing director of the giant Coles supermarket chain said recently. "I anticipate we'll be dropping prices over the course of the next 5 years, and I don't see prices increasing during that period."
Main Macro Events Today
BOE Carney Speech   Governor Carney is due to speak and hold a press conference following the publication of the BOE's Financial Stability Report. The report is published at 09:30 GMT with the press conference following 30 minutes later at 10:00 GMT.
UK Services PMI  We expect a slight fall to 53.1 from last month's 53.5 (which was well above expectations at 52.5 and well above the previous month at 52.3. However, the post Brexit effect could have a serious impact on the figure moving forward. Services accounts for close to 80% of UK (and most High Income Countries) GDP so this figure (and the coming months figures) will be watched with great interest.
Click here to access the HotForex Economic calendar.
Want to learn to trade and analyse the markets? Join our webinars and get analysis and trading ideas combined with better understanding on how markets work. Click HERE to register for FREE! The next webinar will start in:
Stuart Cowell
Market Analyst
HotForex
Disclaimer: This material is provided as a general marketing communication for information purposes only and does not constitute an independent investment research. Nothing in this communication contains, or should be considered as containing, an investment advice or an investment recommendation or a solicitation for the purpose of buying or selling of any financial instrument. All information provided is gathered from reputable sources and any information containing an indication of past performance is not a guarantee or reliable indicator of future performance. Users acknowledge that any investment in FX and CFDs products is characterized by a certain degree of uncertainty and that any investment of this nature involves a high level of risk for which the users are solely responsible and liable. We assume no liability for any loss arising from any investment made based on the information provided in this communication. This communication must not be reproduced or further distributed without our prior written permission.