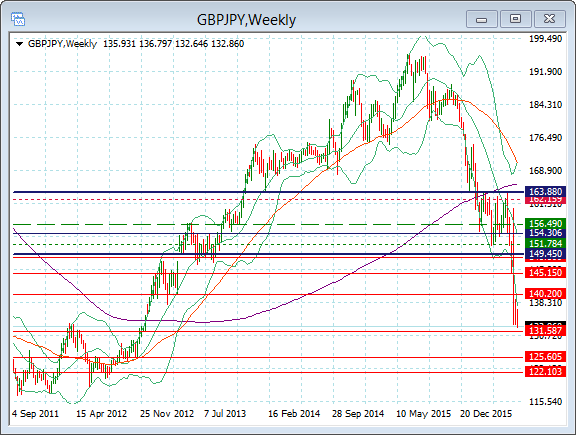 GBPJPY, Weekly           
A second UK property fund stopped redemptions, with Aviva Investments earlier halting retail investors from cutting out of its UK Property Trust, citing "extraordinary market circumstances." This follows the lead of Standard Life, which yesterday blocked retail investor redemptions from its commercial property fund. Both funds said they lack liquid holdings to cover withdrawal demands. The fear is that more will follow, and that these funds will in turn be forced to sell property. Welcome to post-Brexit Britain. BoE Governor Carney earlier said that the central bank has "a clear plan" to keep the banking system operating and that the central bank is "rapidly putting its main elements into place," emphatically adding that "it is working." Carney conceded that the BoE will not "fully and immediately" be able to offset market and economic volatility..
Sterling continues to weaken: cable breaches 1.3100 (losing 1.5% today and recording new 31 year lows) and EURGBP breaks 0.8500 gaining 1.7%. The heaviest fall, as the markets move to significant risk off thanks to continued Brexit uncertainty, is GBPJPY losing over 2.3% today.
GBPJPY can trade lower still from these levels (134.00), the next Support is at 131.50, 128.50 and 125.60. However, as we move lower these targets become more difficult to achieve. Momentum is to the downside and although technically oversold, never underestimate the power of fear and greed.
Always trade with strict risk management and remember that your capital is your single most important financial trading asset.
Click here to access the HotForex Economic calendar.
Want to learn to trade and analyse the markets? Join our webinars and get analysis and trading ideas combined with better understanding on how markets work. Click HERE to register for FREE! The next webinar will start in:
Stuart Cowell
Market Analyst
HotForex
Disclaimer: This material is provided as a general marketing communication for information purposes only and does not constitute an independent investment research. Nothing in this communication contains, or should be considered as containing, an investment advice or an investment recommendation or a solicitation for the purpose of buying or selling of any financial instrument. All information provided is gathered from reputable sources and any information containing an indication of past performance is not a guarantee or reliable indicator of future performance. Users acknowledge that any investment in FX and CFDs products is characterized by a certain degree of uncertainty and that any investment of this nature involves a high level of risk for which the users are solely responsible and liable. We assume no liability for any loss arising from any investment made based on the information provided in this communication. This communication must not be reproduced or further distributed without our prior written permission.