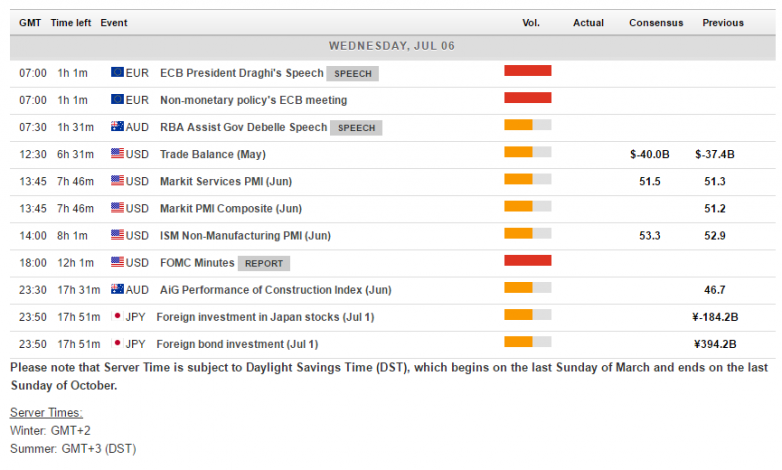 FX News Today
European Outlook: Asian markets outside of mainland China headed south, led by a sharp drop in Japanese markets, as the Yen gained on fresh Brexit fears. Oil prices are up from lows, but the front end WTI future remains below USD 47 per barrel and U.S. and U.K. stock futures are also down. More support then for Bund and Gilt futures, with core European yields continuing to head for ever new lows, while peripheral Eurozone markets are under pressure and spreads widen as risk aversion flares up again. Italian banking sector concerns and Spanish and Portuguese budget woes also remain in focus. The calendar today as German orders data at the start of the session, which should rebound from the slump in April, but will be too backward looking to ease growth concerns. Germany sells 2-year Schatz notes and there is ECB speak from Villeroy and Draghi.
German manufacturing orders fail to rise in May. Expectations had been for a rebound from the slump in April, which was only marginally revised higher to -1.9% m/m from -2.0% m/m reported initially. The stagnation over the month left the annual rate down -0.2% y/y and this is data preceding the Brexit referendum, which will only add to growth concerns for the Eurozone's largest economy.
Brexit Aftermath: A THIRD UK commercial property fund, M&G suspended withdrawals yesterday. This caused worries that there could be a crash in UK commercial property values and therefore impacts on the wider economy. Sterling collapsed again overnight sinking as low as $1.2798 – more than 15% below the levels seen on referendum day – in Asian trading before recovering slightly to $1.2897, down 1%. Against the euro, which is a better proxy of the pound's trade-weighted value, the loss is 13.5%, while the high-to-low decline against the outperforming yen is 19.5%, a staggering magnitude of movement for a currency pairing in the space of less than 10 trading days. GBPJPY today dove over 1.5% to new 43-month lows, while USDJPY clocked at low at 100.58, since recouping to the low 101.0s but remaining over 0.5% lower. EURUSD fell to one-week lows under 1.1050. Commodity currencies joined sterling in the underperforming lane.
Fedspeak: Fed's Williams says a 2016 rate hike is appropriate if his forecasts hold, he noted in a Bloomberg interview. Underlying job growth is "still pretty favorable" and he believes Brexit risks are still "relatively modest." China concerns in late 2015 and early 2016 were more significant. He hasn't changed his outlook much in the aftermath of the UK vote. The unemployment rate should dip to 4.5% by the end of the year. A lower for longer posture risks a more aggressive tightening path later. He won't comment on the timing of action, however. He is not a voter this year, and has taken on a decidedly more hawkish tone this year. He was one of the more dovish Fed presidents through most of his tenure. Fed's Dudley said the U.S. economy is doing ok, on average, a projects 1H growth just below 2%. Investment spending has been weaker than expected. In the early days of Brexit, it's hard to understand the fallout. It will be significant if it spurs financial contagion. He reiterated the FOMC's data dependency and will see how things go, and added that the low inflation rate allows policymakers to take a patient approach. His remarks at a roundtable discussion on business conditions aren't surprising as he maintains his dovish posture.
Main Macro Events Today
ECB Draghi Speech – ECB President Draghi is due to speak at the 8th ECB statistics conference 07:00 GMT
FOMC Minutes –  Minutes of the June 15-16 meeting are due to be published at 18:00 GMT. Jobs growth slowed, but economy was sen to be picking up but inflation still running below target.  The Fed expects economy to warrant gradual increases actual rate path still data dependent. More details from the minutes.
Click here to access the HotForex Economic calendar.
Want to learn to trade and analyse the markets? Join our webinars and get analysis and trading ideas combined with better understanding on how markets work. Click HERE to register for FREE! The next webinar will start in:
Stuart Cowell
Market Analyst
HotForex
Disclaimer: This material is provided as a general marketing communication for information purposes only and does not constitute an independent investment research. Nothing in this communication contains, or should be considered as containing, an investment advice or an investment recommendation or a solicitation for the purpose of buying or selling of any financial instrument. All information provided is gathered from reputable sources and any information containing an indication of past performance is not a guarantee or reliable indicator of future performance. Users acknowledge that any investment in FX and CFDs products is characterized by a certain degree of uncertainty and that any investment of this nature involves a high level of risk for which the users are solely responsible and liable. We assume no liability for any loss arising from any investment made based on the information provided in this communication. This communication must not be reproduced or further distributed without our prior written permission.