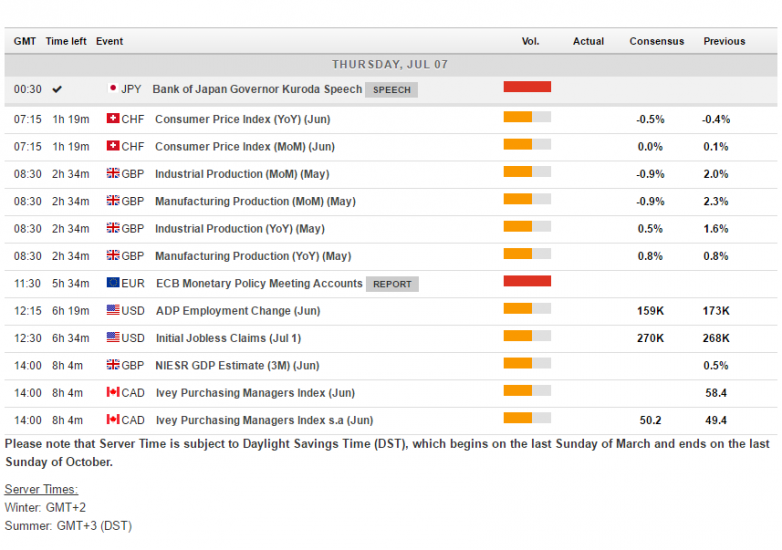 FX News Today
European Outlook: Wall Street managed to close higher, Asian markets are mixed, with Japan still under pressure, but Hang Seng and ASX 200 moving higher, despite S&P cutting Australia's credit rating. FTSE 100 futures are also up and the DAX seem to be set for opening losses, with positive leads from Wall Street helping European markets to finally bottom out. Brexit will remain a major risk factor though not just for the U.K. and the Eurozone is also struggling to cope with the fallout as Italy's banking sector remains in focus. The European calendar has May production data from the U.K., which will be too backward looking to change the outlook. Switzerland has June inflation data, expected to fall to -0.5% y/y from -0.4% y/y.
FOMC Minutes: Almost all officials saw increased uncertainty due to the "surprisingly weak" May jobs report, though there were mixed views on what the data were implying. The minutes showed some thought the slowing understated the pace of job growth, while some worried it might signal a broader slowdown. Many were reluctant to change their overall outlook materially on that one data release. Officials also thought it was prudent to wait for the outcome of the UK referendum, while there was some concern noted over China's FX policy. Some members argued against delaying a rate hike, which was the eventual outcome of course, and doubted whether conditions would improve sufficiently to warrant a hike. Indeed, a "couple of members" wanted more evidence that economic growth was "strong enough to withstand a possible downward shock to demand and that inflation was moving closer to 2%." Others argued against waiting too long to hike rates again. The minutes continue to underscore the increasingly cautious stance of the FOMC.
Brexit Aftermath: Another THREE property funds suspend redemptions; this follows the big three of M&G, Standard Life and Avia earlier in the week, a clear trend in danger of snowballing. The whole UK commercial property fund sector worth 25bln GBP is grinding to a halt. This will have potential ripples through to further foreign capital withdrawals and other sectors of the property market.  Additionally footfall in UK shops is down, there has been a sharp drop in both business and consumer confidence (as gauged by post-June 23 surveys by YouGov CEBR), house prices look to be coming under pressure, and there are signs of significant slowing in automobile sales. It has become clear that the UK "independence" will likely come at a cost of a permanent downward shock to its terms of trade as the EU has made it quite clear that the UK won't be able to have unfettered access to the single market on the terms it seeks. On the external front, bank shares have been hit hard across Europe and there are particularly concerns about the Italian banks. Politically, the EU itself may be facing an existential threat. Against this backdrop, sterling is trading nearly 14% below the highs seen on June 23, and the FTSE 250 (which is a better gauge on the UK economy than the FTSE 100) is down 9.7% while Gilt yields are at record lows. More of the same looks likely.
German production slump points to weak Q2. German production slumped -1.3% m/m in May. Much more than anticipated and led by sharp declines in capital goods and durable consumer goods production. Both were strong in April, so this is somewhat of a correction, but nevertheless, the sharp slump, coupled with the fact that manufacturing orders also decline in May suggests weakness ahead. .hat growth slowed down in the second quarter was widely expected, but hopes were for a rebound in the second half of the year and while confidence indicators seemed to back this view, the Brexit fallout may mean that may not materialise as uncertainty about the outlook will mean caution and reduced investment, also in the Eurozone.
Main Macro Events Today        
US Weekly Claims   US Initial Jobless Claims data for the week of July 2 is out today and should reveal a headline increase to 270k (median 270k) from 268k last week. Claims should set a 267k average in July from 276k in May and 259k in April. As we move through auto retooling season claims are typically more volatile and we expect this to continue to be the case despite an apparent shift towards an earlier start to auto retooling.
Canada Ivey PMI  We expect the Ivey, due today, to improve to 51.0 in June from 49.4 in May. The pull-back in May left the Ivey at the weakest level of the year, and was below the most recent foray into contractionary (sub-50) territory in December of 2015 that saw the index fall to 49.9. But while the magnitude of the decline in May was unexpected, it was not shocking given the Fort McMurray fires during the month, and the concerns about the outlook for the region and the impact of stopped oil production on the national economy.
Click here to access the HotForex Economic calendar.
Want to learn to trade and analyse the markets? Join our webinars and get analysis and trading ideas combined with better understanding on how markets work. Click HERE to register for FREE! The next webinar will start in:
Stuart Cowell
Market Analyst
HotForex
Disclaimer: This material is provided as a general marketing communication for information purposes only and does not constitute an independent investment research. Nothing in this communication contains, or should be considered as containing, an investment advice or an investment recommendation or a solicitation for the purpose of buying or selling of any financial instrument. All information provided is gathered from reputable sources and any information containing an indication of past performance is not a guarantee or reliable indicator of future performance. Users acknowledge that any investment in FX and CFDs products is characterized by a certain degree of uncertainty and that any investment of this nature involves a high level of risk for which the users are solely responsible and liable. We assume no liability for any loss arising from any investment made based on the information provided in this communication. This communication must not be reproduced or further distributed without our prior written permission.