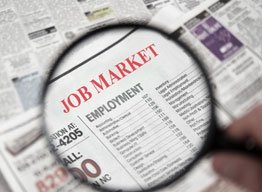 Tomorrow Friday 8th July is one of the most important days in July from traders' perspective. Both institutional and retail traders alike globally are focussing on the US June Non-Farm Payroll report (at 12:30 pm GMT) after the May payroll growth number came in surprisingly low at 38.000 jobs (73.000 when adjusted for Verizon strike). Now the question is whether this number was an outlier or a real indication of the US jobs market slowing down significantly.
We assume that it is likely that the June number was an outlier. As the three month average before the horrendous May reading was 181.000 analyst expectations for the July number range from 160.000 to 210.000 we believe the June payroll increase to be in between these forecasts. The consensus is expecting 178.000 new jobs. The ADP employment number published today (172.000) indicates that this number isn't probably too far from the actual release tomorrow. However, the NFP number has surprised from time to time as we know.
If the actual number deviates strongly from the expectations market volatility usually increases and could create trading opportunities or even an intraday trend after the initial and often unpredictable see sawing settles down. We do not recommend holding geared positions into the event or taking geared positions during the initial volatility that arises from the announcement. However, we are looking for trading signals 20 to 30 minutes after the announcement.  We will keep you updated via the analysis.hotforex.com analysis page and my Facebook page (HotForex Janne Muta) with some live commentary on the results and market action.
Come and join us tomorrow around 12:30 pm GMT. If the number differs strongly from analyst expectation tomorrow could be an interesting and exciting day!
Janne Muta
Chief Market Analyst
HotForex
Disclaimer: This material is provided as a general marketing communication for information purposes only and does not constitute an independent investment research. Nothing in this communication contains, or should be considered as containing, an investment advice or an investment recommendation or a solicitation for the purpose of buying or selling of any financial instrument. All information provided is gathered from reputable sources and any information containing an indication of past performance is not a guarantee or reliable indicator of future performance. Users acknowledge that any investment in FX and CFDs products is characterized by a certain degree of uncertainty and that any investment of this nature involves a high level of risk for which the users are solely responsible and liable. We assume no liability for any loss arising from any investment made based on the information presented here.