Consumers concerned with hot summer
Natural gas prices approached on Tuesday the year highs. Market participants worry the demand for electricity may rise this summer amid forecasts of hot spell. Around 20% of US electrical energy is produced using natural gas. Since the start of the year its price has barely risen while WTI oil edged up by 37%. Will the natural gas prices advance?
On Thursday at 16:30 СЕТ the weekly data on gas stockpiles will come out in the US. They are expected to have risen 82bn cubic feet. Last week the stockpiles rose 71bn while the same week last year they gained 126bn. cubic feet with the average weekly gain of 98bn cubic feet in five years. AS we see, currently the stockpiles are increasing much slower. We believe is the next data are to be far below the forecasts, this may trigger further increase in prices. Now 25.1bn cubic feet of natural gas is needed daily to produce electrical energy in US which is far above the last-year level of 22.9bn cubic feet a day. In the meantime, the gas production in the US fell slightly to 73.2bn cubic feet a day down from 73.5bn cubic feet in 2015. The US weather bureaus expect the average temperature in US to be 9% higher this July than in July 2015.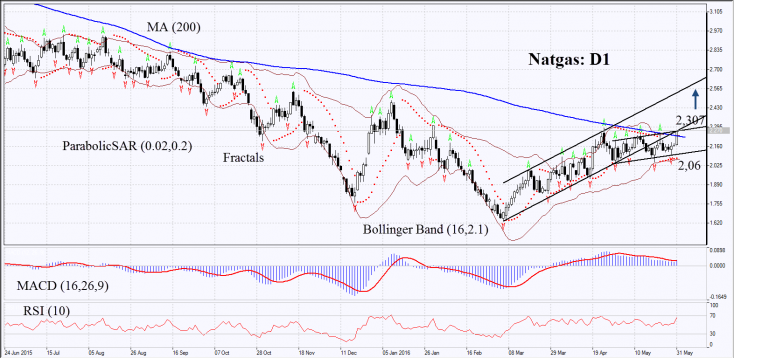 On the daily chart Natgas: D1 has surpassed its 200-day moving average and is struggling for returning into the rising trend. The MACD and Parabolic indicators give signals to buy. The RSI is above 50 but has not yet reached the overbought zone, no divergence. The Bollinger bands have contracted a lot which means lower volatility. The upper band is aligns with 200-day MA on the chart. The bullish momentum may develop in case the natural gas returns into the previous rising trend and surpasses the year high at 2.307. This level may serve the point of entry. The initial stop-loss may be placed below the Parabolic and Bollinger signals and the last fractal low at 2.06. Having opened the pending order we shall move the stop to the next fractal low following the Parabolic and Bollinger signals. Thus, we are changing the probable profit/loss ratio to the breakeven point. The most risk-averse traders may switch to the 4-hour chart after the trade and place there a stop-loss moving it in the direction of the trade. If the price meets the stop-loss level at 2.06 without reaching the order at 2.307, we recommend cancelling the position: the market sustains internal changes which were not taken into account.
| | |
| --- | --- |
| Position | Buy |
| Buy stop | above 2.307 |
| Stop loss | below 2.06 |