US stocks edged up on Monday for the 4th straight time on strong manufacturing production for June. ISM Manufacturing rose to the highest since last February at 53.2. Weekly increase of S&P 500 was the record high since last year. Investors prefer buying US stocks amid economic risks in Europe after Brexit. Today the US stock markets are closed due to the Independence Day.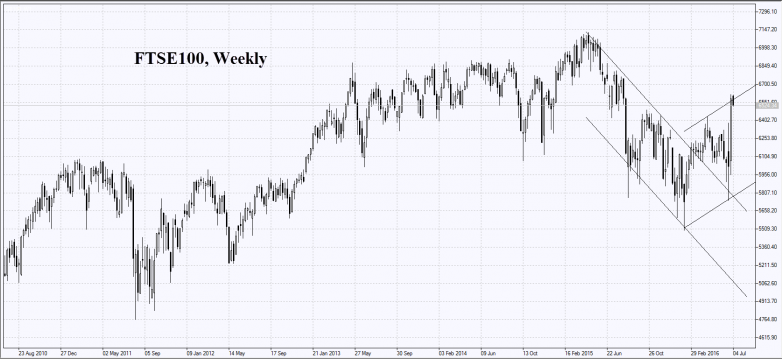 European stocks edged lower on Monday on weak economic data after constant growth for 4 days last week. Eurozone Sentix index fell in July more than expected. The trading volume in the US exchanges was about 20% lower the monthly average due to the absence of US investors. Italian FTSE MIB index lost almost 1% after ECB requested Monte dei Paschi di Siena bank to cut volume of bad loans. Moreover, investors' confidence was affected by negative outlook by JPMorgan for European stocks.
Nikkei advanced on Monday. Investors see Japanese stocks as safe-haven assets amid heightened political risks in Europe after Brexit. They believe the Bank of Japan continues stimulating national economy which may improve financial statement of Japanese companies. Now the earnings season for Q2 is beginning.
Most commodity futures were not traded on Monday due to the holiday in US.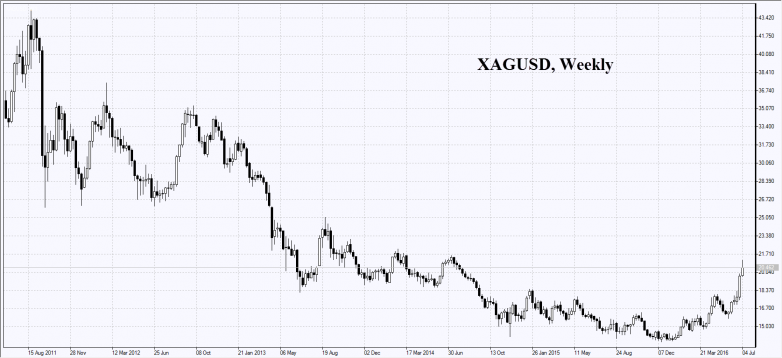 Gold and silver continued advancing on Monday and came close to their 2-year highs on heightened risks in the aftermath of Brexit. SPDR Gold Shares assets in gold reached the high since July 2013 at 953.9 tonnes. The demand for silver may have risen as the metal is used not only for investment like gold but also for manufacturing purposes. The net longs in gold and silver on COMEX reached the record high since 2006, according to U.S. Commodity Futures Trading Commission.