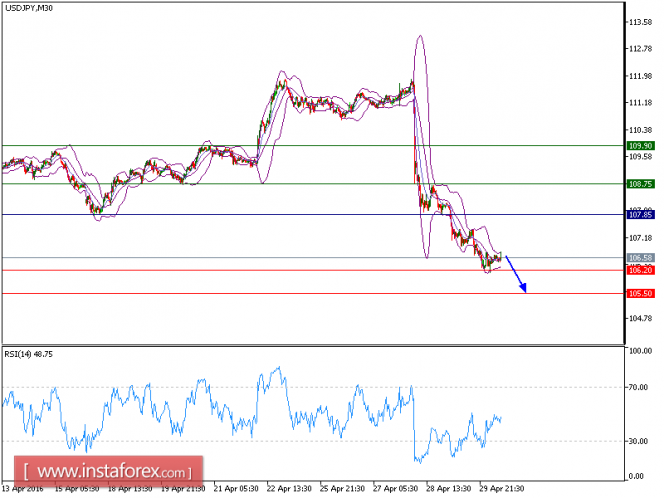 Show full picture
USD/JPY is expected to trade with bearish bias with 106.20 in sight. Last Friday, the U.S. stock indices extended their losses weighed down by continued weakness in technology stocks, and also by profit-taking by investors who viewed stock valuation as stretched. The Dow Jones Industrial Average declined 0.3% to 17,773, the S&P 500 dropped 0.5% to 2,065, and the Nasdaq Composite was down 0.6% to 4,775.
Nymex crude oil declined 0.2% to $45.92 a barrel, gold surged another 2.2% to $1,293 an ounce, silver jumped 1.7% to $17.82 an ounce, and the benchmark 10-year Treasury yield eased to 1.821% from 1.838% on Thursday.
On the forex front, the U.S. dollar weakened broadly against other major currencies, with the Wall Street Journal Dollar Index dropped 0.6% to 84.98, its lowest level since May 2015. Following a 3.0% plunge on Thursday, USD/JPY slid another 1.6% to 106.35 after chalking an 18-month low of 106.27. EUR/USD rose 0.9% further to 1.1454, and GBP/USD added 3 pips to 1.4611. The pair keeps trading on the downside while being capped by the descending 20-period (30-minute chart) moving average. The intraday bearish bias is also maintained by the descending 50-period moving average. Meanwhile the intraday relative strength index remains below the neutrality level at 50 lacking upward momentum. The intraday outlook continues to be very bearish, and the pair is expected to break below the immediate support at 106.20 before sinking further towards 105.50.
Trading Recommendation:
The pair is trading below its pivot point. It is likely to trade in a lower range as long as it remains below the pivot point. Short positions are recommended with the first target at 106.20. A break of this target will move the pair further downwards to 105.50. The pivot point stands at 107.85. In case the price moves in the opposite direction and bounces back from the support level, it will move above its pivot point. It is likely to move further to the upside. According to that scenario, long positions are recommended with the first target at 108.75 and the second target, at 109.90.
Resistance levels: 108.75, 109.90, 110.65
Support levels: 106.20, 105.50, 105