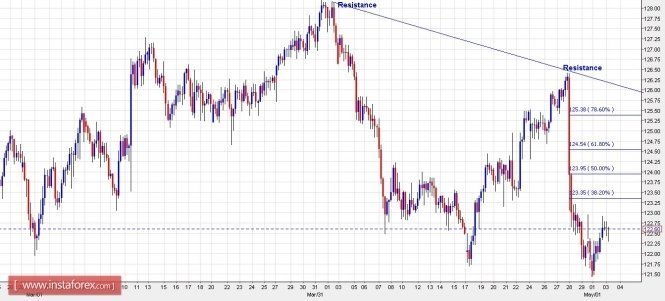 Show full picture
Technical outlook and chart setups:
The EUR/JPY pair rallied through 122.90 levels yesterday before pulling back lower. As it was discussed yesterday, the pair should extend its retracement towards 123.30 levels at least. Please note that the pair could have also formed a double bottom at 121.50 levels, but that would be confirmed on a break above 126.40 levels. In either case, a rally should be unfolding through fibonacci 0.382 or 0.618 resistance levels as depicted on the chart here. It is hence recommended to remain long for now, with risk at 121.00 levels. Immediate support is seen at 121.50 levels, while resistance is at 123.30 levels respectively.
Trading recommendations:
Remain long for now, stop at 121.40, targets are 123.30 and 124.50.
Good luck!