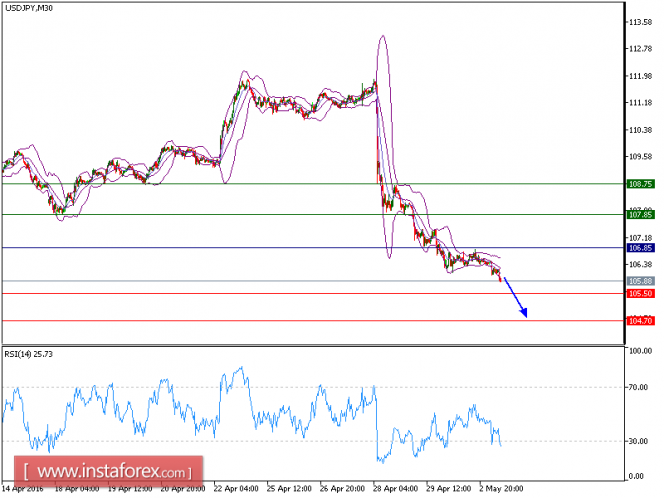 Show full picture
USD/JPY is under pressure. Overnight, US stocks rebounded, led by shares in retailing, consumer services and real estate sectors. The Dow Jones Industrial Average rose 0.7% to 17891, the S&P 500 added 0.8% to 2081, and the Nasdaq Composite was up 0.9% at 4817.
Nymex crude oil dropped a further 2.5% to $44.78 a barrel, gold slid 0.2% to $1,291 an ounce (day-high at $1,304), silver fell 1.6% to $17.53 an ounce (day-high at $18.01), and the benchmark 10-year Treasury yield climbed to 1.866% from 1.821% in the previous session.
On the forex front, the US dollar continued to fall against other major currencies. EUR/USD charged up another 0.7% to 1.1529, back above the 1.1500 level for the first time since last August. GBP/USD rose another 0.4% to 1.4671, and USD/JPY stabilized at 106.40.
Meanwhile, commodities-linked currencies were broadly stronger, with USD/CAD declining 0.2% to 1.2527, AUD/USD rising 0.8% to 0.7665 and NZD/USD gaining 0.7% to 0.7018. The pair is pressing to the downside lacking upward momentum. It is also trading around the lower Bollinger band, suggesting a possible downside acceleration. And the bearish bias is maintained by the descending 50-period moving average. At the same time, the intraday relative strength index remains within the selling area between 50 and 30. If the pair break below the immediate support at 105.50, it would sink further toward 104.70.
Trading Recommendation:
The pair is trading below its pivot point. It is likely to trade in a lower range as long as it remains below the pivot point. Short positions are recommended with the first target at 105.50. A break of this target will move the pair further downwards to 104.70. The pivot point stands at 106.85. In case the price moves in the opposite direction and bounces back from the support level, it will move above its pivot point. It is likely to move further to the upside. According to that scenario, long positions are recommended with the first target at 107.85 and the second target, at 108.75.
Resistance levels: 107.85, 108.75, 109.90
Support levels: 105.50, 104.70, 104