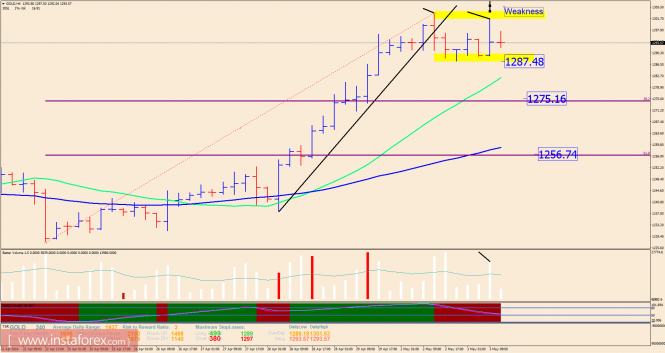 Show full picture
Since our previous analysis, gold has been moving sideways at the price of $1,293.00. According to the 4H time frame, I found a strong sign of weakness. Bullish bar is in a very high volume but closes in the middle. I also found a broken upward diagonal, which is a sign that buying looks risky. There is also consolidation of trading range between the price of $1,303.00 (resistance) and the price of $1,287.00 (support). I would like to see the breakout of support or resistance to confirm further direction. Since I found the weakness according to the 4H time frame, I would like to see breakout of support. The first take profit level is set at the price of $1,275.00.
Daily Fibonacci pivot points:
Resistance levels:
R1: 1,302.00
R2: 1,305.90
R3: 1,312.00
Support levels:
S1: 1,289.50
S2: 1,285.40
S3: 1,279.30
Trading recommendations for today: Be careful when buying gold at this stage and watch for potential selling opportunities.