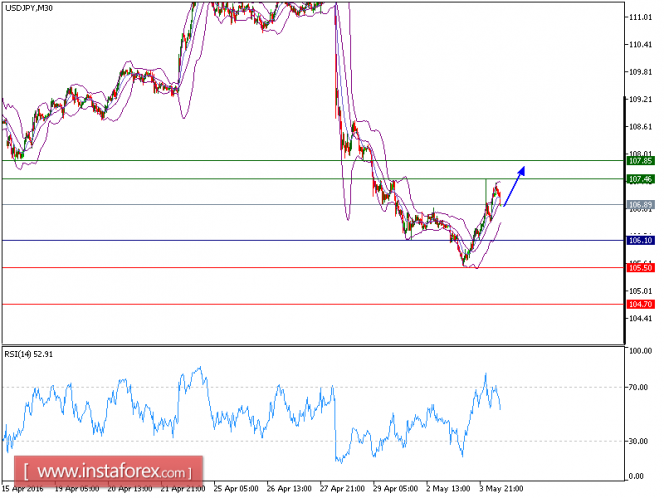 Show full picture
USD/JPY is expected to continue its rebound. Overnight, US stock indices closed lower, pressured by shares in energy, bank and materials sectors. Investors were concerned about contracting manufacturing activities in China as well as falling oil prices. The Dow Jones Industrial Average dropped 0.8% to 17750, the S&P 500 fell 0.9% to 2063, and the Nasdaq Composite was down 1.1% to 4763.
Nymex crude oil lost another 2.5% to settle at $43.65 a barrel, gold declined 0.4% to $1,286 an ounce, silver declined 0.7% further to $17.42 an ounce, and the benchmark 10-year Treasury yield slid to 1.800% from 1.865% in the previous session.
Meanwhile, the US dollar rebounded against other major currencies. USD/JPY rose 0.2% to 106.59 after chalking another 18-month-low at 105.52. Upon completing a volatile session which saw a day-high of 1.1614, EUR/USD was down 0.3% to 1.1495.
The British pound was impacted by an unexpected contraction in British manufacturing output (the Markit/CIPS Manufacturing PMI fell to a three-year low of 49.2 in April from 50.7 in March), as well as the ICM poll which showed a lead by the "Brexit" camp over the "In" camp. GBP/USD dropped 0.9% to 1.4533.
Commodities-linked currencies lost heavily against the greenback, with USD/CAD surging 1.5% to 1.2719 and NZD/USD falling 0.9% to 0.6912. In addition, Australia's central bank surprised the market by cutting its main interest rate by 25 basis points to 1.75% (vs holding the rate steady at 2.00% as expected), causing AUD/USD to sink 2.4% to 0.7483. The pair posted a strong rebound overnight after marking an 18-month-low at 105.52. Currently it is trading above the 20-period (30-minute chart) moving average, which has crossed above the 50-period one. And the intraday relative strength index remains above the neutrality level of 50. As long as the level of 106.10 holds as the key support, the intraday outlook continues to be bullish, and the pair is expected to return to the first upside target at 107.45 (a key resistance seen on April 29).
Trading Recommendation:
The pair is trading above its pivot point. It is likely to trade in a wider range as long as it remains above its pivot point. Therefore, long positions are recommended with the first target at 107.45 and the second one at 107.85. In the alternative scenario, short positions are recommended with the first target at 105.50 if the price moves below its pivot points. A break of this target is likely to push the pair further downwards, and one may expect the second target at 104.70. The pivot point is at 106.10.
Resistance levels: 107.45, 107.85, 108.75
Support levels: 105.50, 104.70, 104