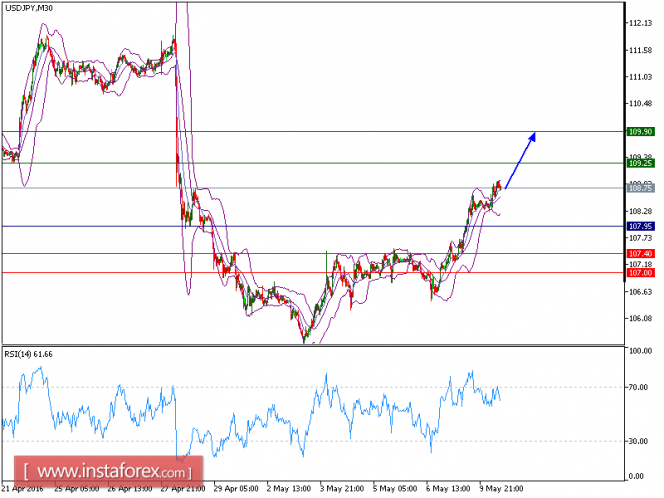 Show full picture
USD/JPY is expected to post further gains. Overnight U.S. stock indexes ended mixed, with the Dow Jones Industrial Average dropping 0.2% to 17705, the S&P 500 adding 0.1% to 2058, and the Nasdaq Composite rising 0.3% to 4750. Energy and materials shares were pressured by weakening commodity prices, while health-care and biotech shares performed the best.
Nymex crude oil posted a volatile session by surging 2.9% to $45.94 a barrel before settling 2.7% lower at $43.44. Gold fell 1.9% to $1263 an ounce, and silver plunged 2.6% to $17.00 an ounce. Meanwhile the benchmark 10-year Treasury yield eased to 1.759% from 1.779% in the previous session.
On the forex front, the U.S. dollar kept strengthening against other major currencies. While Japanese Finance Minister Taro Aso said in the parliament that he is prepared to undertake intervention in view of the Japanese yen's recent sharp appreciation, USD/JPY surged 1.1% to 108.31.
Declining commodity prices were also translated into the weakness of commodity-linked currencies. USD/CAD gained another 0.4% to 1.2961 (day-high at 1.3014), AUD/USD slid 0.7% to 0.7314, and NZD/USD plunged 1.0% to 0.6766 crossing below the 200-day moving average.
The pair is striking against the first upside target at 108.70. It has just broken above the upper Bollinger band, calling for an acceleration to the upside. Technical indicators also suggest a continuation of the intraday bullish bias, with the 20-period moving average stands well above the 50-period one, and the intraday relative strength index being well directed above the neutrality level of 50. Upon recovering the level of 108.70, the pair should proceed further toward 109.25 (last seen on the pair's plunge on April 28).
Trading Recommendation:
The pair is trading above its pivot point. It is likely to trade in a wider range as long as it remains above its pivot point. Therefore, long positions are recommended with the first target at 109.25 and the second one, at 109.90. In the alternative scenario, short positions are recommended with the first target at 107.40 if the price moves below its pivot points. A break of this target is likely to push the pair further downwards, and one may expect the second target at 107. The pivot point is at 107.95.
Resistance levels: 109.25, 109.90, 110.45
Support levels: 107.40, 107, 106.55