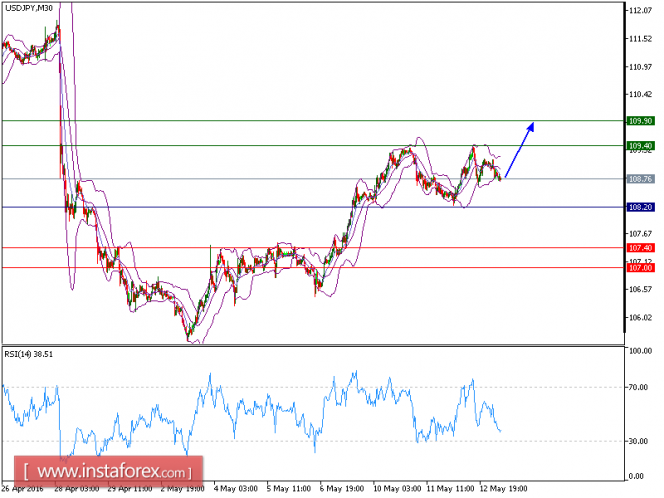 Show full picture
USD/JPY is expected to trade with a bullish Bias. Overnight, US stock indices, following oil prices' choppy trading path, ended narrowly mixed. The Dow Jones Industrial Average added 9 points to 17720, the S&P 500 was broadly flat at 2064, and the Nasdaq Composite dropped 23 points or 0.5% to 4737. Telecoms and consumer staples shares performed the best, while shares in technology, health-care and retail sectors were under pressure.
Nymex crude oil settled 1.0% higher at $46.70 a barrel after a volatile session (day-high at $47.02, day-low at $45.61). Precious metals also experienced a choppy day, with gold ending 1.1% lower at $1,263 an ounce (day-high at $1281), and silver 2.5% lower at $16.96 (day-high at $17.45). The benchmark 10-year Treasury yield climbed to 1.758% from 1.737% in the previous session.
Volatile trading was also found in the forex market. After all, the US dollar managed to regain strength against other major currencies after its decline in the prior session. The Japanese yen weakened against the greenback again as the Bank of Japan's Governor Haruhiko Kuroda mentioned the availability of more monetary easing. USD/JPY rebounded 0.6% to 109.01.
Although GBP/USD surged to a session-high of 1.4529 after policymakers of the Bank of England voted unanimously to hold interest rates unchanged, the pair settled broadly flat at 1.4445. The pair completed its consolidation at levels above the key support at 108.20 yesterday before posting a rebound, which brought it up to a day-high of 109.43. While the pair is currently off that high, it has managed to trade above the key support at 108.20. As intraday technical indicators (20-, 50-period moving averages, relative strength index on a 30-minute chart) are not showing a change in the bullish intraday outlook, re-testing of the first upside target at 109.40 is still expected.
Trading Recommendation:
The pair is trading above its pivot point. It is likely to trade in a wider range as long as it remains above its pivot point. Therefore, long positions are recommended with the first target at 109.40 and the second one, at 109.90. In the alternative scenario, short positions are recommended with the first target at 107.40 if the price moves below its pivot points. A break of this target is likely to push the pair further downwards, and one may expect the second target at 107. The pivot point is at 108.20.
Resistance levels: 109.40, 109.90, 110.45
Support levels: 107.40, 107, 106.55