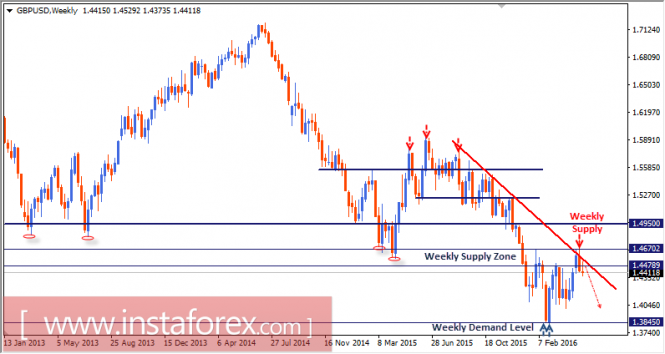 Show full picture
Since January 2016, bullish persistence above 1.4500 was mandatory to maintain enough bullish strength in the market.
However, the previous weekly candlesticks maintained their bearish persistence below the depicted weekly supply zone (below 1.4470) which allowed further bearish decline to occur.
The prominent demand level located at 1.3845 (historical bottom that goes back to March 2009) provided a significant bullish rejection on February 26.
As expected, an evident bullish recovery and a bullish engulfing weekly candlestick were expressed around 1.3845 (prominent weekly demand level) where a significant bullish swing was initiated on March 1.
On the other hand, the price zone of 1.4475-1.4670 has been standing as a significant supply zone during the past few weeks.
Last week, the depicted long-term downtrend line came to meet the GBP/USD pair around the same price zone.
Hence, significant bearish rejection and a bearish weekly candlestick were executed around the upper limit of it (1.4670 level).
The next bearish destinations for the GBP/USD pair would be located at 1.4475, 1.4300, 1.4220 and finally 1.3845.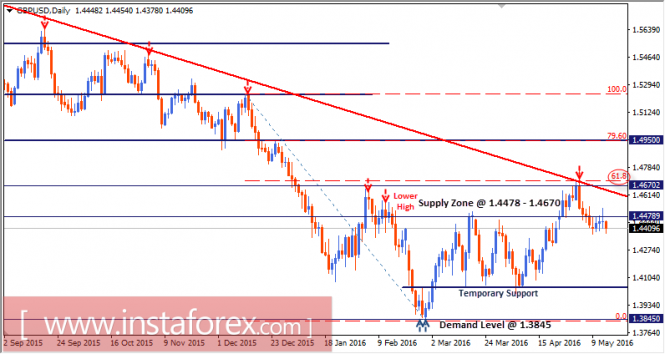 Show full picture
In February 2016, a lower high was achieved around the level of 1.4530. This applied extensive bearish pressure against the price level of 1.4470.
The GBP/USD pair looked oversold when the previous bearish decline extended below 1.4040 (temporary support). That is why, a significant bullish recovery and a profitable long entry were suggested around 1.3845.
On April 7, the market failed to push below the price level of 1.4050. Moreover, a bullish movement was executed again towards the price levels of 1.4750 (slightly above the 61.8% Fibonacci level).
As anticipated, significant bearish rejection was expressed around the price zone of 1.4700-1.4750 (61.8% Fibonacci level) resulting in a strong bearish shooting-star daily candlestick.
This week, daily persistence below 1.4470 will be needed to enhance further bearish decline towards 1.4380 and 1.4250. Otherwise, a bullish pullback towards 1.4670 can be excluded.