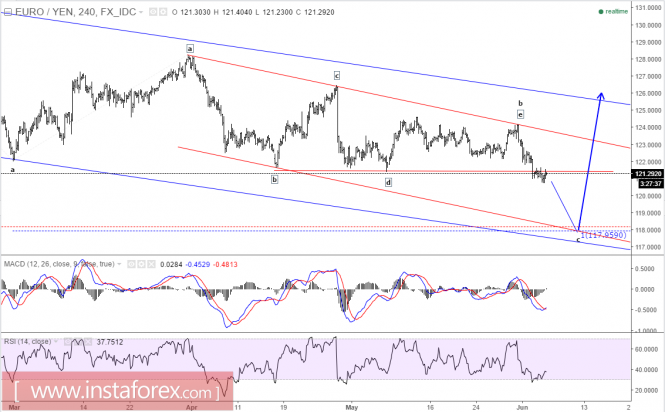 Show full picture
Wave summary:
The break below 121.46 calls for more downside pressure towards the 117.95 - 118.20 area before a long bottom for the corrective decline from 149.56 should be expected. That being said, the failure to build on the break below 121.46 could indicate that the potential downside potential is limited.
No matter whether a decline to the 117.95 - 118.20 area is seen or a low is seen before that, we must be aware that all requirements for the decline from 141.06 have been fulfilled, which means an important low could be found any time now.
However, to confirm that an important bottom is in place, a break above resistance at 124.19 will be needed, while a break back above minor resistance at 121.68 will indicate a failure break below 121.46 has been seen and will be the first indication of a possible bottom being in place already.
Trading recommendation:
We are looking for new buying opportunities and will buy EUR at 118.25 or upon a break above 121.68. If our buy order at 121.68 is triggered, our stop will be placed 5 pips below the most recent low.