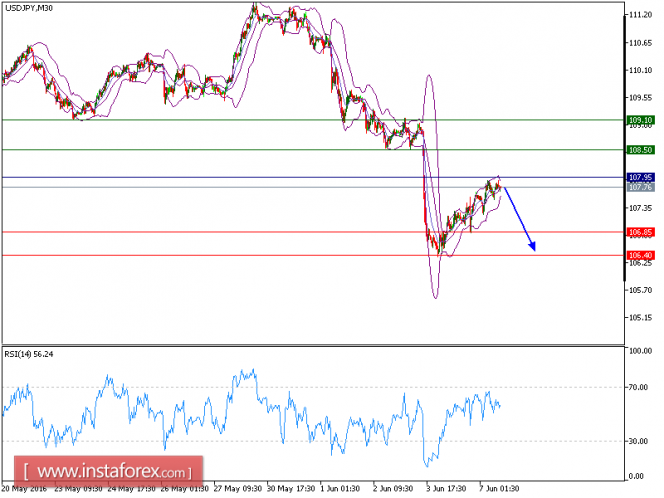 Show full picture
USD/JPY is expected to trade with bearish bias as Key resistance is at 107.95. Overnight U.S. stocks charged higher as rising oil prices boosted energy shares. The Dow Jones Industrial Average rose 0.6% to 17,920, the S&P 500 gained 0.5% to 2,109, the highest closing level since November 3, while the Nasdaq Composite was up 0.5% to 4,968. Nymex crude oil jumped 2.2% to $49.69 a barrel, the highest since July 21.
Gold edged up 0.1% to $1,245 an ounce, and the US 10-year yield climbed to 1.723% from 1.707% on Friday.
U.S. Federal Reserve Chairwoman Janet Yellen insisted that interest rates stay on the way up. "I see good reasons to expect that the positive forces supporting employment growth and higher inflation will continue to outweigh the negative ones...I continue to think that the federal funds rate will probably need to rise gradually over time to ensure price stability and maximum sustainable employment in the longer run," she said. She added that Friday's jobs report was disappointing but commented, "One should not attach too much significance to a single report."
Benefiting from the rise in oil prices, the Canadian dollar strengthened against the U.S. dollar, with the USD/CAD plunging another 0.9% to a three-week low of 1.2815.
The British pound continued to be weighed down by Brexit fears and GBP/USD declined 0.6% to 1.4436 (one-day low at 1.4350).
Meanwhile EUR/USD eased 0.1% to 1.1351, and USD/JPY rebounded 1.0% to 107.55, USD/CHF decreased another 0.5% to 0.9702, and NZD/USD was down 0.5% to 0.6917.
The Australian dollar was broadly flat at 0.7366 against the greenback. On Tuesday, the Reserve Bank of Australia will set its cash rate target, expected to stay unchanged at 1.75%.
The pair is encountering resistance at levels near to the key resistance at 107.95. It has dropped below the 20-period (30-minute chart) moving average and is seeking support from the 50-period one underneath. The intraday relative-strength index is below the neutrality level of 50 showing a lack of upward momentum for the pair. As long as 107.95 is not surpassed, the pair could return to the first downside target at 106.85.
Recommendations:
The pair is trading below its pivot point. It is likely to trade in a lower range as long as it remains below the pivot point. Short positions are recommended with the first target at 106.85. A break of this target will move the pair further downwards to 106.40. The pivot point stands at 107.95. In case the price moves in the opposite direction and bounces back from the support level, it will move above its pivot point. It is likely to move further to the upside. According to that scenario, long positions are recommended with the first target at 108.50 and the second one at 109.10.
Resistance levels: 108.50, 109.10, 109.70
Support levels: 106.85, 106.40, 105.70