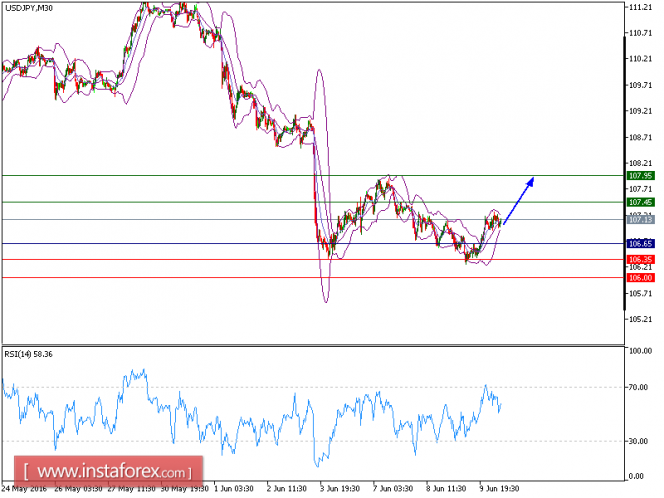 Show full picture
USD/JPY is expected to continue its rebound. On Thursday, US stock indices ended slightly lower as the afternoon rebound helped them pare some losses seen earlier in the session. The Dow Jones Industrial Average edged down 0.1% to 17,985, the S&P 500 declined 0.2% to 2,115, and the Nasdaq Composite was down 0.3% to 4,958. Losses in financial and material shares were partly offset by rallying utilities and telecom firms.
After gaining 5.4% in the prior three sessions, Nymex crude oil reversed course and shed 1.3% to settle at $50.56 a barrel. Gold added another 0.5% to $1,268 and silver rose 1.5% further to 17.28. The benchmark 10-year treasury yield dropped to 1.678%, the lowest closing level since February 11, from 1.706% on Wednesday.
The US dollar rebounded as the euro lacked upward momentum to push further above the 1.1400 level. EUR/USD fell 0.7% to 1.1314. At the same time USD/JPY stabilized and edged up 0.1% to 107.08 (a day low at 106.24), and GBP/USD was down 0.3% to 1.4457.
Most commodity-linked currencies were under pressure. USD/CAD snapped a losing streak of 4 straight sessions that cost 3.1% by rebounding 0.2% to 1.2719. AUD/USD lost 0.6% to close at 0.7427.
Although, NZD/USD once surged 2.0% up to 0.7146 earlier in the session yesterday, after the New Zealand's central bank surprised the market by holding its key interest rate unchanged at 2.25%, it ended at 0.7098. Overnight, the pair broke above a declining trend line initiated on June 7. Currently, it continues trading on the upside while being supported by the ascending 20-period (30-minute chart) moving average, which crossed above the 50-period one. Also the intraday relative strength index stays above the neutrality level of 50 suggesting upward momentum for the pair. The immediate resistance is found at 107.45 (a level of over-lapping support and resistance seen on June 7-8), and the next one at 107.95 (around the high of June 7).
Recommendations:
The pair is trading above its pivot point. It is likely to trade in a wider range as long as it remains above its pivot point. Therefore, long positions are recommended with the first target at 107.45 and the second one at 107.95. In the alternative scenario, short positions are recommended with the first target at 106.35 if the price moves below its pivot points. A break of this target is likely to push the pair further downwards, and one may expect the second target at 106. The pivot point is at 106.65.
Resistance levels: 107.45, 107.95, 108.50
Support levels: 106.35, 106.00, 105.50