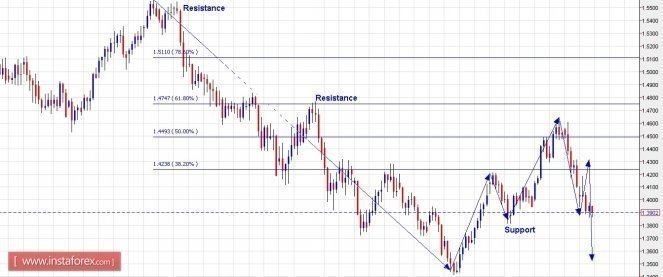 Show full picture
Technical outlook and chart setups:
The GBP/CHF pair is seen to be trading close to 1.3900 levels at this moment, after printing fresh lows at 1.3862 levels yesterday. Please note that the pair has dropped almost 800 pips since last few trading sessions. The Fibonacci 0.50 retracement levels proved to be quite a resistance for the pair and bears should remain in control from here on, till prices stay below 1.4600 levels. Also note that intraday/interday pullback rallies are possible towards 1.4300 levels but those should be considered as fresh opportunities to go short. It is recommended to take profits on short positions for now and wait for a counter trend rally to materialize. Immediate support is seen at 1.3800 levels, while resistance is at 1.4600 levels (intermediary).
Trading recommendations:
Please book profits on short positions taken earlier and look to sell again on rallies towards 1.4300/400 levels.
Good luck!