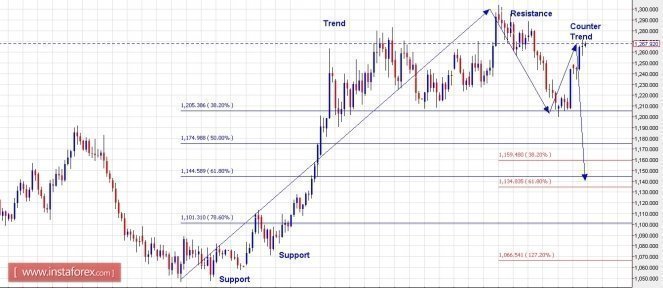 Show full picture
Technical outlook and chart setups:
Gold is seen to be trading at $1,267.00/68.00 levels at this moment, and it should set up to drop lower to complete the counter trend as depicted on the daily chart view. The structure indicates that the entire rally from $1,046.00 through $1,303.00 levels needs to be retraced before resuming the trend. The entire drop from $1,303.00 should unfold into 3 waves. The first and second waves seem to be complete at $1,271.00 levels yesterday. The third wave lower is expected to begin any moment and it should potentially drag prices towards $1,140.00/50.00 levels from here. It is hence recommended to remain short from here, with risk above $1,303.00 levels. Immediate resistance is seen at $1,290.00 levels, while support is at $1,200.00 levels respectively. Bears are expected to remain in control from here, till prices stay below $1,303.00 levels.
Trading recommendations:
Remain short from here, stop is above $1,303.00, target is $1,150.00 levels.
Good luck!