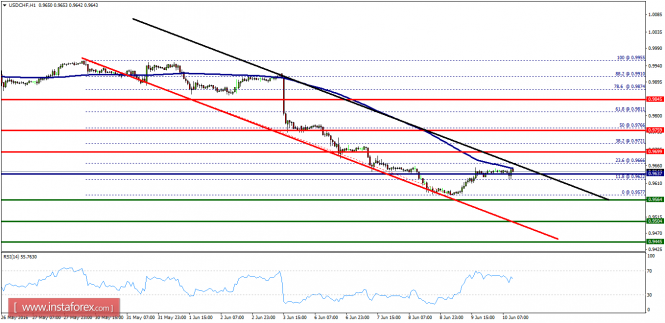 Show full picture
Overiew:
The USD/CHF pair continues to move downwards from the 0.9699 level. This week, the pair dropped from the 0.9699 level, which coincides with the double top, to the bottom around 0.9566. The current price is seen at 0.9637. Today, the first resistance level lies at 0.9699 followed by 0.9759, while daily support 1 is found at 0.9564.
Additionally, the 0.9637 level represents a daily pivot point as it is acting as a key level today.
Amid the previous events, the USD/CHF pair is still in a downtrend, because it is trading in a bearish mode from the new resistance line of 0.9699 towards the first support level at 0.9637 in order to test it.
If the pair succeeds to pass through the level of 0.9637, the market will indicate a bearish opportunity below the level of 0.9637. So, sell again below the level of 0.9637 with the next objectives at 0.9503 and 0.9443.
However, if a breakout happens at the resistance level of 0.9700, then this scenario may be invalidated.