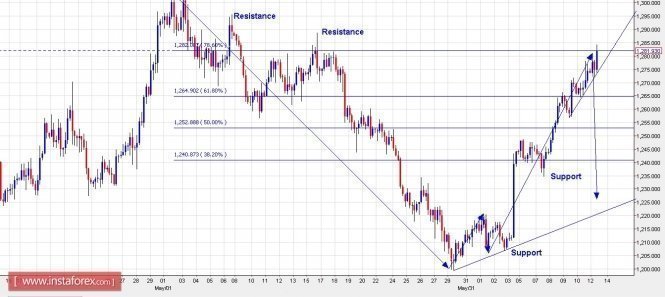 Show full picture
Technical outlook and chart setups:
Gold has yet again pushed higher and is seen to be trading around $1,281.00/82.00 levels after printing highs at $1,284.22 levels. Please note that the metal has hit fibonacci 0.786 retracement levels of the previous drop between $1,303.00 through $1,200.00 levels respectively, a typical property of the yellow metal before reversing lower. The wave structure indicates that gold should face resistance here and reverse lower towards $1,234.00 levels at least. It is hence recommended to remain short and also look to add further, with risk above $1,303.00 levels. Bears should be expected to regain control back from these levels as long as prices stay below $1,303.00 levels. Immediate resistance is seen at $1,290.00/1,303.00 levels, while support is at $1,234.00 levels respectively.
Trading recommendations:
Remain short and also add positions, stop above $1,303.00 levels, target is open.
Good luck!