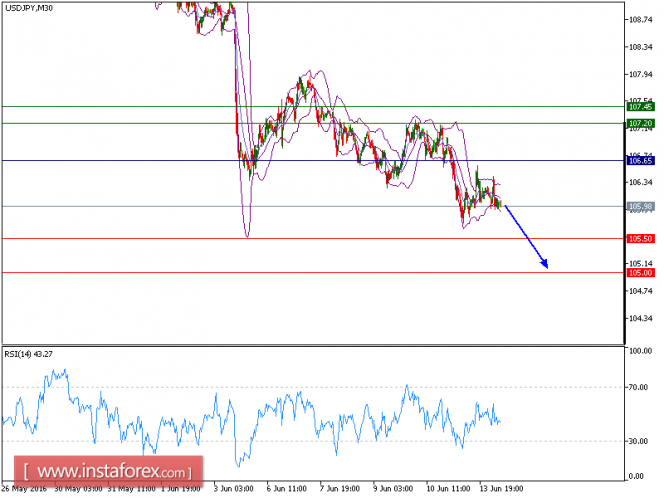 Show full picture
USD/JPY is expected to trade in a lower range as the key resistance is at 106.65. On Monday, US stock indices marked another losing session as investors positioned for major economic and political events in the US and Europe. The Dow Jones Industrial Average fell 0.7% to 17732, the S&P 500 dropped 0.8% to 2079, and the Nasdaq Composite was down 0.9% to 4848.
Materials and technology shares performed the worst. Microsoft (MSFT) shed 2.6% after announcing a $26.2-billion acquisition of LinkedIn (LNKD), which then surged 46.6%.
European stocks remained under pressure with the Stoxx Europe 600 falling 1.8%.
US government bonds continued to receive bids, forcing the benchmark 10-year treasury yield down to 1.616%, the lowest level since December 2012, from 1.639% Friday. Similar yields on government debt in Japan, the UK and Switzerland settled at all-time lows.
Nymex crude oil declined another 0.4% to $48.88 a barrel. Gold climbed 0.8% higher to $1284 an ounce, and silver was up 0.6% to $17.43 an ounce.
In forex trading, the US dollar took a pause after rallying in the prior two sessions. The British pound, which has been impacted by "Brexit" fears recently, managed to settle slightly higher at 1.4271 against the US dollar overnight after a very volatile session, which saw a day-low at 1.4112 and day-high at 1.4326.
The Japanese yen rose against the US dollar, the euro, and the British pound amid strong demand for safe-haven assets. USD/JPY fell 0.7% to 106.23 (day-low at 105.72).
USD/CAD gained 0.4% to 1.2833, producing a winning streak of 3 straight sessions involving an upside of 1.1%.
The pair failed to post a sustainable rebound yesterday after reaching a day-low at 105.72. It exhibited choppy price action below the key resistance at 106.65 (a key support seen on June 10) while forming a pattern of lower highs. Meanwhile, the intraday relative strength index (30-minute chart) is mixed around the neutrality level of 50 with a bearish bias. As long as 106.65 is not surpassed, the pair stands a higher chance of returning to the first downside targets at 105.75 (around yesterday's low) and 105.50 in extension.
Recommendations:
The pair is trading below its pivot point. It is likely to trade in a lower range as long as it remains below the pivot point. Short positions are recommended with the first target at 105.50. A break of this target will move the pair further downwards to 105.00. The pivot point stands at 106.85. In case the price moves in the opposite direction and bounces back from the support level, it will move above its pivot point. It is likely to move further to the upside. According to that scenario, long positions are recommended with the first target at 107.20 and the second one at 107.45.
Resistance levels: 107.20, 107.45, 107.95
Support levels: 105.50, 105.00, 104.50