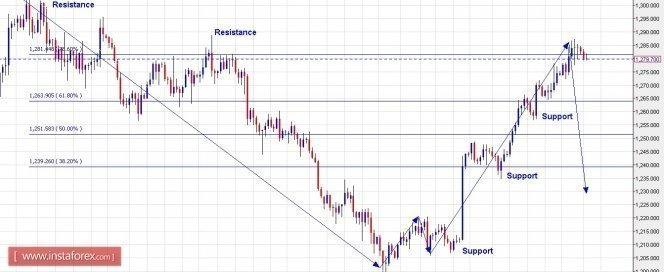 Show full picture
Technical outlook and chart setups:
Gold prices have retreated lower from yesterday's highs ($1,287.50) and are seen to be trading at $1,278.00/79.00 levels at this moment, setting up to push lower. Please note that the metal is expected to drop at least towards $1,271.00 level if not further. But the wave structure reveals that a major top might have already formed at $1,287.00/88.00 levels yesterday and the metal should continue lower towards $1,150.00 level before changing trends. It is hence recommended to remain short now and also look to add further at current levels, with risk above $1,303.00 level. Bears seem to be poised to remain in control till prices stay below $1,303.00 levels going forward. Immediate resistance is at $1,288.00/90.00 levels, while support is at $1,272.00 levels respectively.
Trading recommendations:
Remain short and also look to add further, stop above $1,303.00 levels, a target is open.
Good luck!