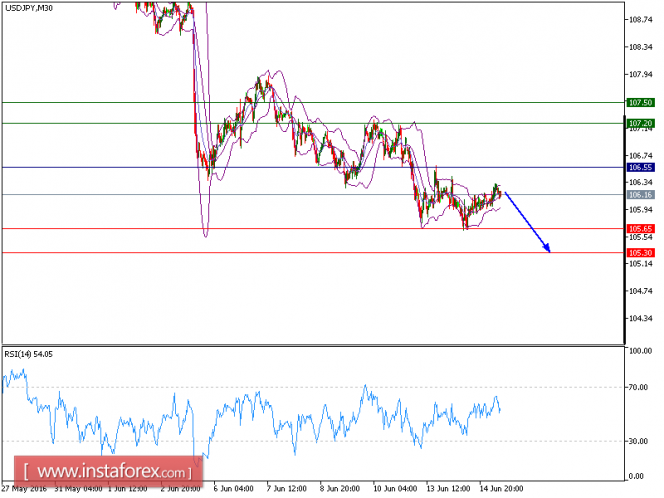 Show full picture
USD/JPY is expected to trade with a bearish bias. The pair touched a low of 105.60 yesterday before posting a rebound. However, the rebound is currently losing steam, while the pair is struggling to hold the handle at 106.00. On Tuesday, US stock indices closed lower again chalking a losing streak of four sessions. Investors remained cautious ahead of the US Federal Reserve's 2-day interest-rate-setting meeting that starts on Wednesday. The Dow Jones Industrial Average dropped 0.3% to 17674, the S&P 500 declined 0.2% to 2075, and the Nasdaq Composite was down 0.1% to 4843. Financial shares were the worst performers.
European stocks continued their descent with the Stoxx Europe 600 losing another 1.9%.
The benchmark 10-year US treasury yield edged down to 1.611% from 1.616% Monday. Meanwhile, the 10-year Germany debt yield crossed below zero for the first time on record.
Nymex crude oil fell 0.8% to $48.49 a barrel extending losses to a fourth consecutive session. On the other hand, gold stepped up 0.1% to $1285 an ounce achieving a winning streak of 5 straight sessions and 3.4%. Meanwhile, silver was down 0.3% to $17.38 an ounce.
On the economic front, the US government reported that retail sales rose 0.5% month-on-month in May (vs 0.3% expected, 1.3% in April).
Regarding forex trading, the US dollar regained upward momentum as the British pound and the euro kept tumbling on Brexit fears. Following a string of surveys that indicated a lead by the "Leave" camp over the "Remain" camp ahead of Britain's EU membership referendum next week, GBP/USD plunged 1.1% to a 2-month low at 1.4114 (day-low at 1.4089), and EUR/USD fell 0.7% to 1.1206 (day-low at 1.1186).
The Japanese yen continued to receive bids, with USD/JPY edging down 0.1% to 106.10 (day-low at 105.60).
Besides, lower oil prices kept weighing on the Canadian dollar, and USD/CAD climbed 0.3% higher to 1.2870, tallying an aggregate gain of 1.4% through a winning streak of 4 straight sessions.
A lack of upward momentum is also indicated by the intraday relative strength index (30-minute chart), which is mixed around the neutrality level of 50 with a bearish bias. The pair is therefore expected to return to the first downside target of 105.65 (around yesterday's low) before sinking further toward 105.30 (last seen in October 2014).
Recommendations:
The pair is trading below its pivot point. It is likely to trade in a lower range as long as it remains below the pivot point. Short positions are recommended with the first target at 105.65. A break of this target will move the pair further downwards to 105.30. The pivot point stands at 106.55. In case the price moves in the opposite direction and bounces back from the support level, it will move above its pivot point. It is likely to move further to the upside. According to that scenario, long positions are recommended with the first target at 107.20 and the second one at 107.50.
Resistance levels: 107.20, 107.45, 107.95
Support levels: 105.65, 105.30, 105.00