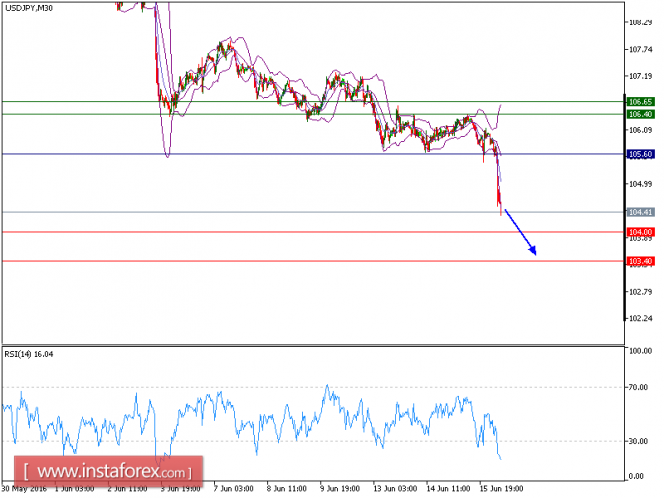 Show full picture
USD/JPY is under pressure and is expected to continue its downside movement. On Wednesday, US stocks pared gains to end lower after the Federal Reserve decided to hold interest rates unchanged. All the three major indexes eased 0.2%, with the Dow Jones Industrial Average declining to 17640, the S&P 500 to 2071, and the Nasdaq Composite to 4834. They have been down for five straight sessions.
Apart from maintaining interest rates as expected, the Fed signaled that it is still on track to raise rates twice in 2016. But the central bank cut its rate outlook for 2017 and 2018.
The benchmark 10-year US treasury yield dropped further to 1.596% from 1.611% Tuesday. Nymex crude oil shed another 1.0% to $48.01 a barrel extending a losing streak to a fifth session. Meanwhile, gold rose 0.4% further to $1291 an ounce giving an aggregate gain of 3.8%, or $48, in six consecutive sessions. And silver was up 0.8% to $17.51 an ounce.
European stocks rebounded with the Stoxx Europe 600 gaining 1.0%.
The US dollar came under pressure after the Fed's announcement as it weakened against the euro, yen and emerging market currencies. The Wall Street Journal Dollar Index shed 0.6% to 86.34. EUR/USD rebounded 0.5% to 1.1257 (day-high at 1.1297), USD/JPY eased 0.1% to 106.00 (day-low at 105.46) and GBP/USD climbed up 0.6% to 1.4202.
The Canadian dollar continued to be weighed down by falling oil prices. USD/CAD stepped up another 0.3% to 1.2911, expanding aggregate gains to 1.7% through a winning streak of five straight sessions. The pair spent the whole session yesterday trading below the key resistance at 106.40. It once reached a low of 105.46 before bouncing back to the 106.00 level. However, it is currently heading to more weakness while trading around the lower Bollinger band. The intraday outlook remains very bearish, and an acceleration to the downside is expected.
Recommendations:
The pair is trading below its pivot point. It is likely to trade in a lower range as long as it remains below the pivot point. Short positions are recommended with the first target at 104.00. A break of this target will move the pair further downwards to 103.40. The pivot point stands at 105.60. In case the price moves in the opposite direction and bounces back from the support level, it will move above its pivot point. It is likely to move further to the upside. According to that scenario, long positions are recommended with the first target at 106.40 and the second one at 106.65.
Resistance levels: 106.40, 106.65, 107.15
Support levels: 104, 103.40, 102.85