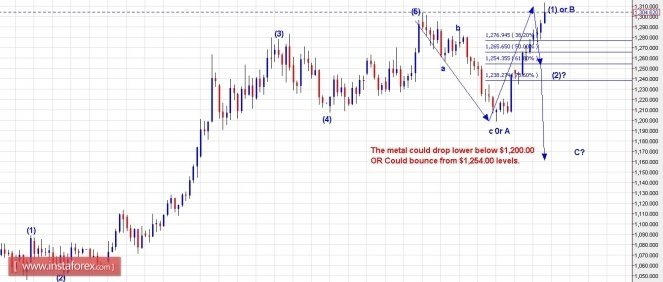 Show full picture
Technical outlook and chart setups:
Gold was pushed towards fresh highs today at $1,313.00 levels before pulling back. The metal is seen to be trading at $1,304.00/05.00 levels at this moment, looking to push lower. The wave structure reveals that the metal had completed 5-wave rally between $1,046.00 and $1,303.00 levels earlier. The drop from $1,303.00 through $1,200.00 levels and the subsequent rally towards $1,313.00 levels can be defined as A and B waves of a potential expanded flat movement. In this case wave C is expected to unfold into 5 waves towards at least $1,200.00 levels. On the flip side, a wave (2) pullback can be expected towards $1,254.00 levels before turning higher again. In any case, a drop lower from here remains highly probable. It is hence recommended to remain flat for now and wait for a bearish confirmation. Immediate resistance is seen at $1,340.00 levels, while support is seen through $1,240.00 levels respectively.
Trading recommendations:
Remain flat for now. Wait for a bearish reversal.
Good luck!