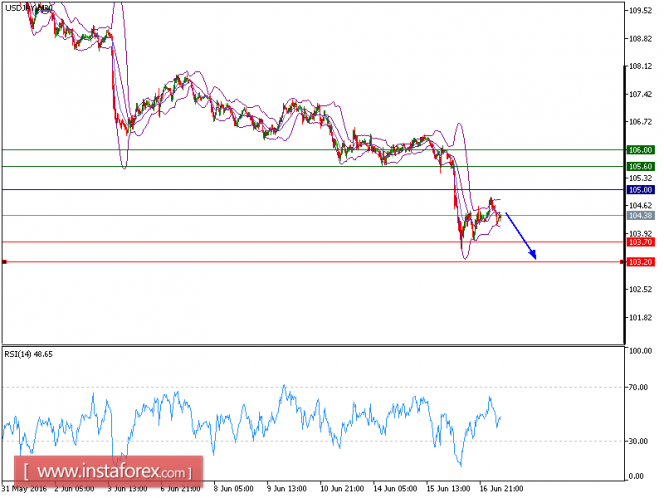 Show full picture
USD/JPY is expected to trade with bearish bias. The pair continues its rebound from yesterday's low at 103.58 and it is challenging the key resistance at 105.00 (the 61.8% Fibonacci retracement from yesterday's low relative to a resistance at 106.00).On Thursday, U.S. stocks erased early losses to settle higher, snapping a losing streak covering the prior five sessions. The Dow Jones Industrial Average gained 0.5% to 17,733, the S&P 500 rose 0.3% to 2,077, and the Nasdaq Composite was up 0.2% to 4,844.
While Britain's June 23 referendum on whether to leave the European Union remains the most important factor that rattles markets, the situation has been complicated by the assassination of British Member of Parliament Jo Cox, a Labour Party lawmaker who had been supporting the "Remain" camp. Campaigning for the referendum has been suspended by both sides.
U.S. government debt kept rallying in price, sending the benchmark 10-year treasury yield to 1.563%, the lowest closing level since August 2012, from 1.594% on Wednesday.
Nymex crude oil fell for the sixth session plunging 3.7% to a one-month low of $46.21 a barrel. At the same time gold posted a roller-caster session as it surged 1.9% to $1,316 an ounce, the highest intraday level since August 2014, before crashing down to settle at $1,279, down 1.0% on day and ending a 6-day winning streak. Similarly, silver closed 2.0% lower at $17.15 an ounce after reaching as high as $17.86.
European stocks rallied in the last hour of trading with the Stoxx Europe 600 trimming loss to only 0.7%.
The U.S. dollar gave back most of its heavy gains against other major currencies, particularly the British pound and the euro, after the assassination of the U.K. lawmaker. GBP/USD, which was down 1.4% to 1.4010, ended broadly flat at 1.4201. EUR/USD surged from its one-day low of 1.1129 to close at 1.1223, down only 0.3% on day.
The Japanese yen surged yesterday as the Bank of Japan decided to stand pat on interest rates and offered no further easing measures to fight the surging currency and weakening inflation. USD/JPY slumped to a low of 103.58, the lowest level since August 2014, before settling at 104.24, down 1.7% on day.
Boosted by the strength of the greenback as well as the weakness of oil prices, USD/CAD reached a session high of 1.3085 yesterday before closing at 1.2966, up 0.4% on day. This morning, the pair turned to the downside and struggled to hold the 1.2900 handle.
Intraday technical indicators (20-, 50-period moving averages, relative strength index on a 30-minute chart) are positive suggesting a further rebound. A break above 105.00 would turn the intraday outlook bullish and call for a bounce toward the next resistance at 105.60 (a key support seen in June 14-16). However, if 105.00 is not surpassed, expect a return to 103.70 (around yesterday's low).
Recommendations:
The pair is trading below its pivot point. It is likely to trade in a lower range as long as it remains below the pivot point. Short positions are recommended with the first target at 103.70. A break of this target will move the pair further downwards to 103.20. The pivot point stands at 105.00. In case the price moves in the opposite direction and bounces back from the support level, it will move above its pivot point. It is likely to move further to the upside. According to that scenario, long positions are recommended with the first target at 105.60 and the second one, at 106.00.
Resistance levels: 105.60, 106.00, 106.40
Support levels: 103.70, 103.20, 102.85