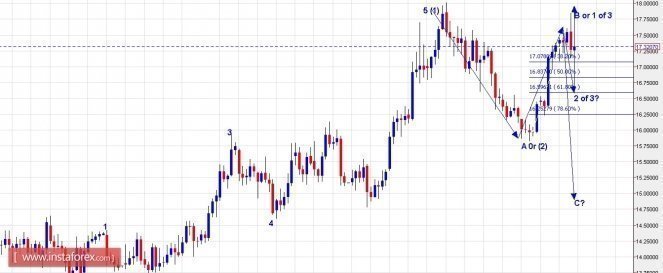 Show full picture
Technical outlook and chart setups:
Silver has finally reversed from $17.75 levels yesterday as we expected. The metal did not exceed its resistance above $18.00 levels and hence looking at the wave counts, there is a high probability for an A-B-C correction. As labelled on the chart here, the metal might have just begun Wave C, which should unfold into 5 sub waves pushing prices lower towards at least $15.00 levels. As an alternate wave count (less probable), the metal could find support around $16.60 levels forming wave 2 of the presumed wave 3 (labelled). In either case, the metal is expected to produce a short-term correction and hence it is recommended to remain short from yesterday, with risk above $18.00 levels. Immediate resistance is at $18.00 levels (interim at $17.75 levels), while support is seen at $17.00 levels respectively.
Trading recommendations:
Remain short now, stop is above $18.00 levels, and target is at least $16.60.
Good luck!