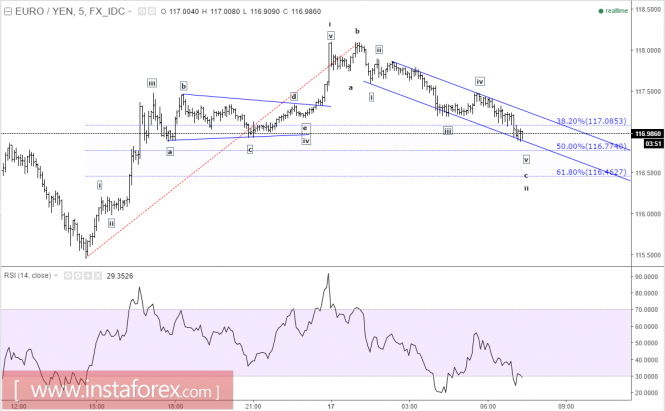 Show full picture
Wave summary:
Yesterday's decline extended more than we had expected and the low was not seen before 115.46. But the rally that followed this low, looks very promising. It is clearly a five-wave rally, which indicates that a low is in place and is likely to be a long-term corrective low that we have been looking for.
In a short term, we expect that support in the 116.46 - 116.77 area will be able to protect the downside for the next rally above the minor resistance at 117.48 and more importantly above resistance at 118.10 adding confidence to the low being in place at 115.46.
Thus, we have to be aware that wave two corrections often become very deep and are allowed to correct 100% from the first impulsive wave, but they can never break the starting point of the first impulsive rally.
Trading recommendation:
Our stop at 116.50 was hit, but we will be looking for a new buying opportunity at 116.50 or upon a break above 117.48 with stop placed at 115.40.