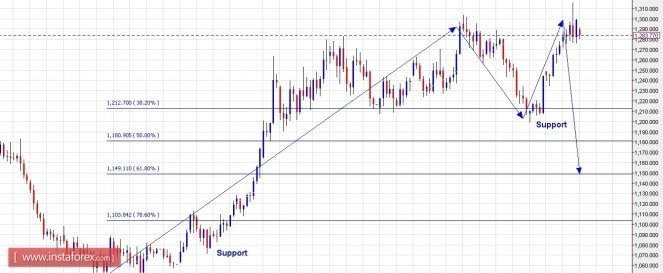 Show full picture
Technical outlook and chart setups:
Gold has dropped lower from Friday close and is seen to be trading at $1,283.50 level at this moment, looking to break below $1,275.00 level going forward. The metal looks to have structurally completed 5 waves between $1,046.00 and $1,303.00 levels respectively. An expanded flat looks to be unfolding right now with a downside potential towards $1,149.00 levels, but this can be confirmed on a break at least below $1,275.00 levels and subsequently $1,200.00 levels. We shall be watching $1,250.00/52.00 levels closely for a bullish bounce as well. It is hence recommended to remain flat for now, with risk above $1,315.00 levels. Immediate resistance is seen at $1,315.00 levels, while support is at $1,234.00/35.00 levels respectively.
Trading recommendations:
Remain short from last week, stop at $1,320.00, a target is $1,150.00.
Good luck!