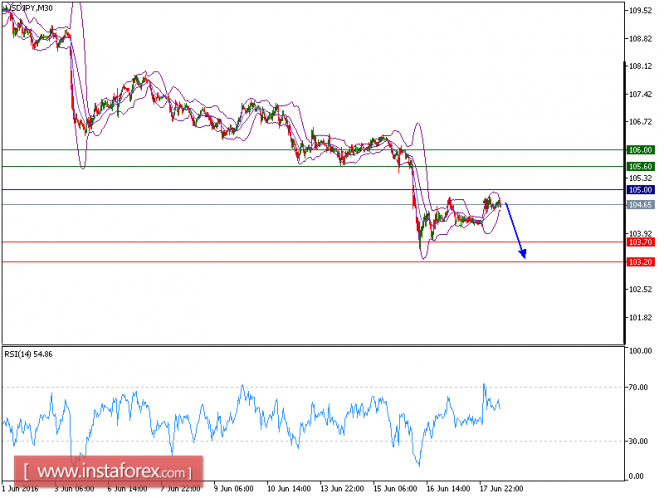 Show full picture
USD/JPY is expected to trade in a lower range . On Friday U.S. stocks closed lower following a rebound in the previous session. The Dow Jones Industrial Average fell 0.3% to 17675, the S&P 500 dropped 0.3% to 2071, and the Nasdaq Composite was down 0.9% to 4800. Health-care and technology shares were the worst performers. Apple Inc (AAPL) lost 2.3% and Google parent Alphabet Inc (GOOGL) slid 2.8%.
U.S. government bonds pulled back in price after eight days of gains, with the benchmark 10-year treasury yield rising to 1.616% from 1.563% Thursday. Nymex crude oil jumped 3.8% to $47.98 a barrel, snapping a losing streak that spanned the prior six sessions. Gold rebounded 1.5% to $1298 an ounce and silver was up 2.0% to $17.48 an ounce.
European stocks rebounded with the Stoxx Europe 600 gaining 1.4%
As all eyes are on Britain's referendum this Thursday on whether to remain in the European Union, the British pound is making dramatic moves. Following a 1.1% jump to 1.4356 on Friday, GBP/USD opened with a bullish gap and surged 1.8% up to 1.4611 this morning in Asian trading. Traders should be squaring their short positions on the pair ahead of Thursday's big event.
The euro followed the pound's move by jumping 0.7% up to 1.1356 this morning. Meanwhile USD/JPY has been up 0.7% to 104.81 after dipping 0.2% to 104.10 on Friday.
At the same time commodities-linked currencies continued to firm up against the greenback this morning. USD/CAD sank a further 0.4% to 1.2836, AUD/USD added a further 0.6% to 0.7443 and NZD/USD rose 0.6% higher to 0.7094. The pair failed to break above the key resistance at 105.00 last Friday and entered a trading range between 104.00 and 104.40. However the pair bounced as the Asian trading started this morning reaching a high of 104.81. It is currently trading above the 50-period moving average (30-minute chart) while the intraday relative strength index has surged to levels above the neutrality level of 50 calling for a continuation of the bounce.
Recommendations:
The pair is trading below its pivot point. It is likely to trade in a lower range as long as it remains below the pivot point. Short positions are recommended with the first target at 103.70. A break of this target will move the pair further downwards to 103.20. The pivot point stands at 105.00. In case the price moves in the opposite direction and bounces back from the support level, it will move above its pivot point. It is likely to move further to the upside. According to that scenario, long positions are recommended with the first target at 105.60 and the second one, at 106.00.
Resistance levels: 105.60, 106.00, 106.40
Support levels: 103.70, 103.20, 102.85