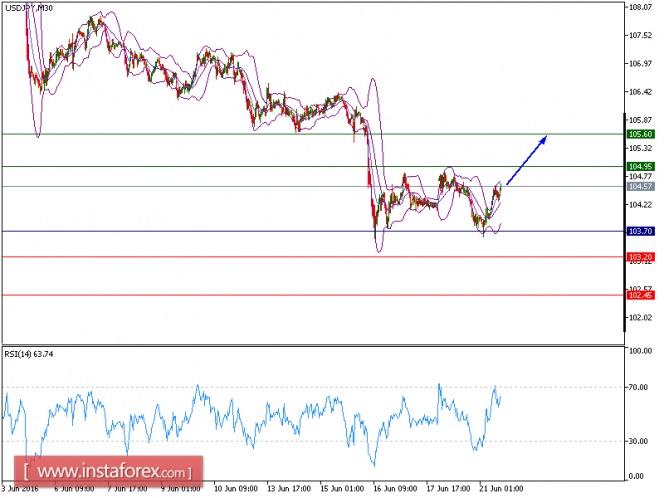 Show full picture
USD/JPY is expected to trade with bullish bias. On Monday US stock indexes rebounded, although they closed near session lows. Risk-correlated assets rallied as investor sentiment was boosted by indications that the UK will vote to remain in the European Union. The Dow Jones Industrial Average rose 0.7% to 17,804, the S&P 500 added 0.6% to 2,083, and the Nasdaq Composite was up 0.8% to 4,837. Consumer discretionary, industrial and technology shares performed well, while utilities posted losses.
European stocks kept rebounding with the Stoxx Europe 600 surging 3.7%.
Meanwhile, a selloff in government bonds in the US, Germany and the UK sent bond yields higher. The benchmark 10-year US treasury yield rose to 1.670% from 1.616% on Friday.
Nymex crude oil surged another 2.9% to $49.37 a barrel. Gold lost 0.7% to settle at $1,290 an ounce, while silver was broadly flat at $17.48 an ounce.
As for Forex trading, the US dollar tumbled as the British pound surged over 2% after weekend opinion polls on Britain's EU membership referendum showed that the "Remain" camp was regaining momentum. The ICE Dollar Index dropped 0.6% to 93.66, while GBP/USD shot up 2.4% to 1.4694 (daily high at 1.4717), the strongest one-day increase since 2009 and the financial crisis. The pair has broken above its 200-day moving average.
EUR/USD gained 0.3% rising to 1.1310, though it reached a high of 1.1382 during the session. And USD/JPY dipped to 103.92.
Commodity currencies managed to post another rallying session, with USD/CAD dropping 0.7% to 1.2803, AUD/USD gaining 0.8% to 0.7457, and NZD/USD being 1.0% higher at 0.7119. After declining along the lower Bollinger band, the pair struck against the first downside target at 103.70 (around the low of June 16) this morning. Currently it remains capped by the descending 20-period (30-minute chart), which stands below the 50-period one. And the intraday relative strength index shows a lack of upward momentum for the pair. Above 103.70, look for further upside toward 104.95.
Recommendations:
The pair is trading above its pivot point. It is likely to trade in a wider range as long as it remains above its pivot point. Therefore, long positions are recommended with the first target at 103.20 and the second one at 102.45. In the alternative scenario, short positions are recommended with the first target at 104.95 if the price moves below its pivot points. A break of this target is likely to push the pair further downwards, and one may expect the second target at 102.45. The pivot point is at 103.70.
Resistance levels: 104.95, 105.60, 106.00
Support levels: 103.20, 102.45, 102