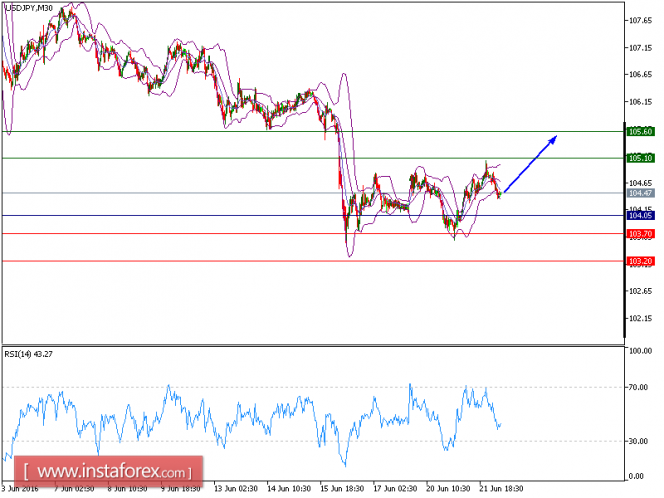 Show full picture
USD/JPY is expected to trade in a higher range as the bias remains bullish. The pair broke above the key resistance at 104.05 yesterday and climbed up to 105.05 before entering a consolidation. Currently, it is trading around the 20-period (30-minute chart) moving average, while the bullish bias is maintained by the ascending 50-period moving average. The intraday relative strength index is around the neutrality level of 50, showing a lack of downward momentum for the pair and a limited extent for the consolidation.
On Tuesday, US stocks posted small gains in a range-bound session with low volumes. The Dow Jones Industrial Average edged up 0.1% to 17829, the S&P 500 rose 0.3% to 2088, and the Nasdaq Composite was up 0.1% to 4843. Energy and technology shares were winners.
European stocks remained positive with the Stoxx Europe 600 advancing 0.7%.
US Federal Reserve Chairwoman Janet Yellen reiterated her optimistic view on the country's economy when speaking before the US Senate.
The benchmark 10-year US treasury yield rallied further to 1.699% from 1.670% Monday. Nymex crude oil declined 1.1% to $48.85 a barrel, while gold dropped 1.4% further to $1268 an ounce, and silver was down 1.2% to $17.27 an ounce.
On the forex front, as expectations stayed high of the UK voting to remain in the European Union in Thursday's referendum, the British pound ran up to a high of 1.4781 against the US dollar, a level last seen at the start of the year, before slipping and closing at 1.4645, down 0.3% compared to the prior session.
Meanwhile, EUR/USD declined 0.6% to 1.1240, and USD/JPY rebounded 0.8% to 104.73.
The New Zealand dollar rose to a one-year-high of 0.7169 against the greenback before settling at 0.7116, flat compared to the previous day. AUD/USD declined 0.2% to 0.7444, although it reached as high as 0.7512 in the session. In case the pair manages to take out the first upside target at 105.10 (around yesterday's high), it should bounce further toward 105.60 (a key support seen on June 14-15). Key support is set at 104.15.
Recommendations:
The pair is trading above its pivot point. It is likely to trade in a wider range as long as it remains above its pivot point. Therefore, long positions are recommended with the first target at 105.10 and the second one at 105.60. In the alternative scenario, short positions are recommended with the first target at 103.70 if the price moves below its pivot points. A break of this target is likely to push the pair further downwards, and one may expect the second target at 103.20. The pivot point is at 104.05.
Resistance levels: 105.10, 105.60, 106.00
Support levels: 103.70, 103.20, 102.45