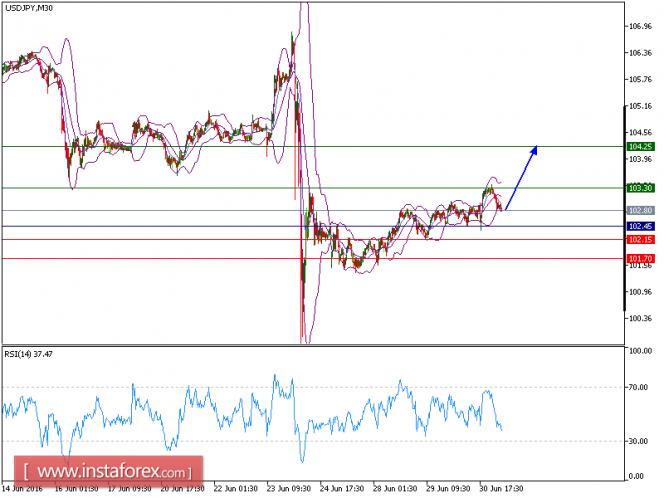 Show full picture
USD/JPY is challenging 103.30. On Thursday, US stock indices tallied a third straight day of gains as the UK's central bank signaled the need for further stimulus measures in the wake of the country's vote to leave the European Union. The Dow Jones Industrial Average rose 1.3% to 17929, chalking a 4.6% gain in a three-day winning streak. The S&P 500 climbed 1.4% to 2098, and the Nasdaq Composite was up 1.3% to 4842. By this point, those indices have pared most of the deep two-day loss following the "Brexit" vote.
Consumer staples shares took the lead, as Hershey (HSY) surged 16.8% upon rejecting a $23 billion takeover offer from Mondelez (MDLZ), which gained 5.9%.
European stocks stayed positive, with the Stoxx Europe 600 climbing 1.0%.
The benchmark US 10-year treasury yield edged up to 1.483% from 1.477% Wednesday. Nymex crude oil plunged 3.1% to $48.33 a barrel, gold was up 0.3% to $1322 an ounce, while silver rose 2.3% to $18.69 an ounce.
Bank of England Governor Mark Carney pointed out that the economic outlook has deteriorated and some monetary policy easing will likely be required over the summer. Reacting to this, the British pound slumped over 1.6% to a day-low of 1.3202 against the US dollar before closing the session at 1.3306, down 0.9% day on day.
Meanwhile, EUR/USD declined 0.2% to 1.1104 (day-low at 1.1022), and USD/JPY rose 0.4% to 103.25.
Volatile trading was also spotted in commodities-linked currencies. USD/CAD edged down 0.1% to 1.2923 though it had reached as high as 1.3015 in the session. AUD/USD sank down to 0.7369 before closing at 0.7450, only 2 pips higher than the prior session. And NZD/USD climbed 0.3% to 0.7130 (day-low at 0.7053). The pair has struck against the immediate resistance at 103.30 (a level of over-lapping support and resistance seen on June 24) while riding on the bullish trend line drawn from June 27. Upon breaking above this level, the pair is expected to rise further to 104.25 (a key support seen in June 21-23).
Recommendations:
The pair is trading above its pivot point. It is likely to trade in a wider range as long as it remains above its pivot point. Therefore, long positions are recommended with the first target at 103.30 and the second one, at 104.25. In the alternative scenario, short positions are recommended with the first target at 102.15 if the price moves below its pivot points. A break of this target is likely to push the pair further downwards, and one may expect the second target at 101.70. The pivot point is at 102.45.
Resistance levels: 103.30, 104.25, 105.00
Support levels: 101.70, 101.40, 100.80