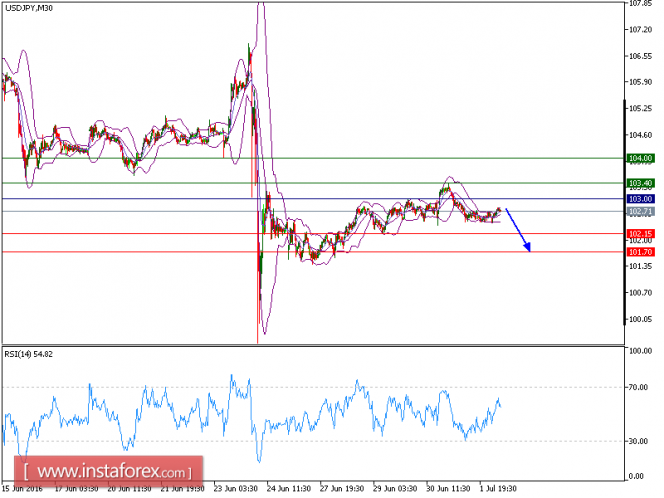 Show full picture
USD/JPY is expected to trade under pressure. On Friday, U.S. stock indices posted the modest gains giving a winning streak of four straight sessions. Trading volume was very light ahead of the long weekend (U.S. markets are closed on Monday, July 4 for the Independence Day). The Dow Jones Industrial Average edged up 0.1% to 17,949 and the Nasdaq Composite was up 0.4% to 4,862. The S&P 500 stepped up 0.2% to 2,102, bringing its four-day advance to 5.1% and posting its best week since November. Automobile, retailing, and pharmaceutical & biotech shares advanced the most.
The European stocks continued to score, with the Stoxx Europe 600 rising 0.7%.
The benchmark U.S. 10-year treasury yield sank to a record intraday low of 1.385% before closing at 1.446%, down from 1.492% on Thursday. Gold surged 1.5% to $1,342 an ounce, while silver soared 5.6% to $19.74 an ounce. Meanwhile Nymex crude oil rebounded 1.4% to $48.99 a barrel.
On the economic front, the ISM Manufacturing Index posted 53.2 in June (vs. 51.3 expected, 51.3 in May), and the Markit U.S. Manufacturing PMI was at 51.3 in June (vs 51.2 expected, 50.7 in May).
In the forex trading, the U.S. dollar weakened broadly against other major currencies. EUR/USD rose 0.3% to 1.1135 and USD/JPY fell 0.7% to 102.51. On the other hand, the British pound kept showing a lack of upward momentum, with GBP/USD declining 0.3% further to 1.3261.
Commodities-linked currencies strengthened further. USD/CAD edged down 0.1% to 1.2915 in a volatile session marking a day-high at 1.2974 and a day-low at 1.2859. NZD/USD gained 0.5% to 0.7167, advancing 2.5% in a four-day winning streak.
AUD/USD rose 0.6% to 0.7492 on Friday, but came under pressure this morning as the latest federal election in Australia has not resulted in a clear majority for Prime Minister Malcolm Turnbull's Liberal Party-led coalition or the opposition Labor Party.The pair broke below a bullish trend line drawn from June 27 and breached the key support at 102.55 on Friday, turning the intraday outlook bearish. Currently, it remains capped by the descending 50-period (30-minute chart) moving average, while the 20-period moving average stands below the 50-period one. As long as the bearish bias persists, the pair would post choppy price action targeting 102.15 on the downside.
Recommendations:
The pair is trading below its pivot point. It is likely to trade in a lower range as long as it remains below the pivot point. Short positions are recommended with the first target at 102.15. A break below this target will move the pair further downwards to 101.70. The pivot point stands at 103. In case the price moves in the opposite direction and bounces back from the support level, it will move above its pivot point. It is likely to move further to the upside. According to that scenario, long positions are recommended with the first target at 103.40 and the second one, at 104.
Resistance levels: 103.40, 104.00, 105.00
Support levels: 102.15, 101.70, 101.40