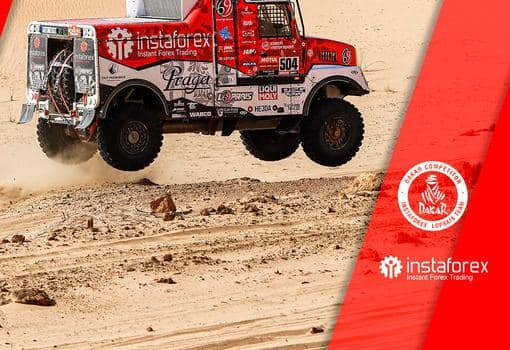 Today, we will tell you how the InstaForex Loprais Team fought for victory in the truck category during the 2021 Dakar Rally. The rally consisted of 12 stages. It lasted for two weeks and ended on January 15, 2021. All in all, there were 20 crews participating in the rally in the truck category.
The rally's most interesting part was a battle for leadership among the world's strongest teams, including legendary InstaForex Loprais Team led by Ales Loprais and crew members Khalid Al Kendi and Petr Pokora.
The prologue stage of 11km began in Jeddah to determine starting positions. Quick but careful drive brought the InstaForex Loprais Team to the 6th place.
The prologue was followed by 12 stages. The InstaForex Loprais Team achieved impressive results and finished the rally in 7th place in the overall standing.
Three KAMAZ crews led by drivers Dmitry Sotnikov, Anton Shibalov, and Ayrat Mardeev entered the top 3 respectively.