02.10.2015, 10am
•PMIs are decent, but not that exciting Manufacturing in most major countries continued to expand, but at a somewhat slower pace than before. The US ISM index managed to remain in expansionary territory as domestic activity remained steady even though international activity slowed. China of course is the main exception, with the Markit PMI there remaining deep in sub-50 territory.
• Currencies remain in a narrow range EUR/USD is opening this morning in Europe at 1.1180. Since August 28th, there have been only four days that it did not open with either at 1.11 or 1.12 handle (three of those days it was 1.13, the other 1.14). That's 22 out of 26 trading days. During the same time, USD/JPY has opened at either 119 or 120 every day but two. There may be intraday volatility but there is not much direction.
• There's more variation in GBP/USD, where there were five days each starting at 1.51 and at 1.52, seven at 1.53, and five each at 1.54 and 1.55. So the range was much wider and more evenly distributed. That indicates more uncertainty, more disagreement and debate in the market about the likely course of the UK economy. The difference between the Bank of England's rhetoric and the market's forecast for interest rates is quite noticeable – as I mentioned recently, Bank officials are warning that interest rate hikes will start to be a topic of discussion around the turn of the year, but the market is predicting that nothing will happen until next September. Like in the US and Japan too, the market is less optimistic about a return to inflation than officialdom is. So far, the market has been right and officialdom has been wrong. Does that mean a delay in hiking rates in the US and UK and perhaps more QE in the Eurozone and Japan? That's the main topic of debate and disagreement.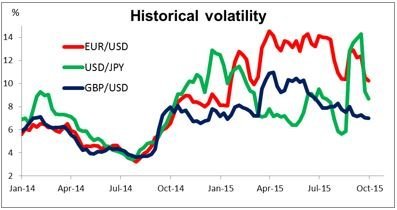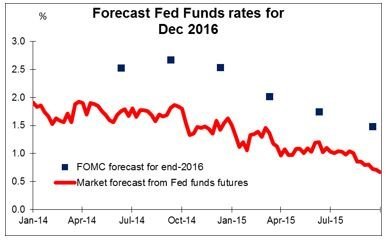 • Today's highlights: During the European day, Norway's unemployment rate for September is estimated to decline bit. Following the improved manufacturing PMI on Thursday, and the slightly higher oil prices, a decline in the unemployment rate could push USD/NOK lower. Eurozone's PPI for August is also coming out.
• The main event will be the US employment report for September. The current market forecast is for an increase in payrolls of 200k, up from the 173k in August. Another reading above 200k is needed to keep confidence up and suggest that the US labor market is gathering momentum. Fed officials noted the strength of the labor market at their September FOMC meeting, but because of uncertainties abroad they refrained from hiking. As such, another strong NFP figure could keep USD supported against its peers, but it is unlikely to cause Fed members to raise rates at their next meeting unless the global environment calms down. It seems likely that the figure will bounce back from August's unusually low level. August has been the least reliable month for the NFP data in recent years. Not only has August been the weakest month for NFP, it also has around twice the average revision. A bounce-back in September and an upward revision to the August figure would probably reassure the markets that the normalization process will soon start, and support the dollar. At the same time, the unemployment rate is forecast to remain unchanged at 5.1%, while average hourly earnings are expected to accelerate somewhat.
• As for the speakers, Philadelphia Fed President Patrick Harker, St. Louis Fed President James Bullard and Fed Vice Chairman Stanley Fischer speak. Harker just took office on July 1st and has made no public comments so far that I can find. Unfortunately he's just making some opening remarks at a Philly Fed conference on credit and payments markets and won't say anything about the economic outlook for monetary policy, apparently.