American Express Company, #AXP [NYSE]
Finance, Loan facilities, USA

Financial performance of the company:
Index – DJIA, S&P 500;
Beta – 1.10;
Capitalization – 53.13 В;
Return on asset – 3.20%;
Income – 5.06 В;
Average volume – 7.78 М;
P/E – 12.97;
ATR – 1.65.

Analytical review:
The company ranks the third on capitalization in the sector of "Loan facilities" among the issuers traded in the American stock market;
On 20 April the company American Express issued report for Q1 of the fiscal year 2016. After that company's shares grew by 3.7%;
Company's press-release showed that company's revenue has grown by 1.7% to 8.09 billion USD against market's expectations of 8.00 billion USD. The company's net profit has grown up to 1.43 billion USD against 1.53 billion USD for the previous period. EPS (earnings per share) has increased the forecast by 6% amounting to 1.45 USD;
At the press-conference company's management stated that the results of the company exceeded market expectations due to the increase of rising costs of cardholders and increasing number of new clients. In the reporting period, expenses of the cards holders have increased by 6%. The rise in the number of cards has exceeded 3 million.
The company has the best rates of profitability of capital and investments among the closest competitors in the industry. Return on asset amounts to 5.47%. Return on equity exceeds 23%. Average value in the industry is 2.12% and 10.11% respectively ;
Currently competition in the market of payment systems is very high. In order to retain its market share the company has increased spending on marketing and advertising by 19% to 5.47 billion USD.
Summary:
Last company's report has increased investors' trust to the company. The company showed the rise in revenue above market expectations.
American Express has strong growth potential. The rise in the market share in the sector of payment systems will increase the price of the company.
It is likely that in the near future company's quotes will go up.
Trading tips for CFD of American Express Company .

Key levels:
Support levels: 64.15 USD and 61.60 USD.
Resistance levels: 65.00 USD and 66.50 USD.

Medium-term trading, Н1:
At the moment the issuer is traded in the demand zone of 64.15-65.00 USD. If the price maintains this zone and in case of the respective confirmation (such as pattern Price Action), we recommend to open long positions. Risk per trade is not more than 2% of the capital. Stop order can be placed slightly below the signal line. Take profit can be placed in parts at the levels of 65.65 USD, 66.40 USD and 67.50 USD with the use of trailing stop.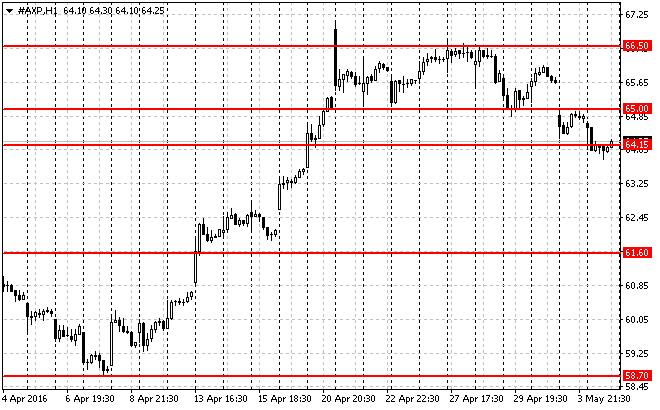 Medium-term trading, Н1:
Short-term trading, М15:
Yesterday the issuer is traded between the local support and resistance levels of 63.85/64.90 USD. It is advisable to enter the market after breaking out and testing of these levels. Positions can be opened towards the signal line and the nearest support/resistance levels. Risk per trade is not more than 3% of the capital. Stop order can be placed slightly above/below the signal line. Take profit can be placed in parts of 50%, 30% and 20% with the use of trailing stop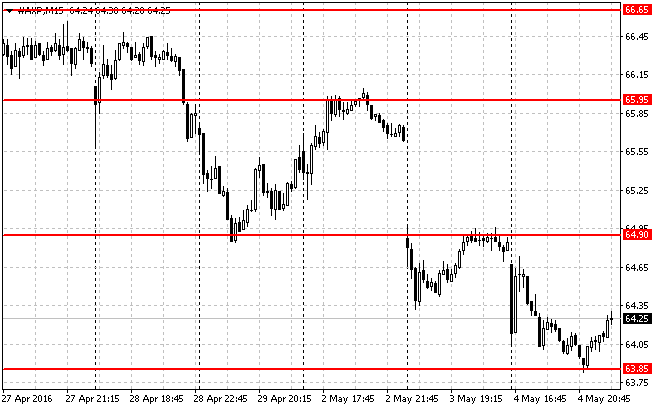 Short-term trading, М15