Technical indicators of the currency pair:

Prev. closure: 109.54;
Daily range: 108.84-109.57;
Opening 109.54;
52 - week range: 105.52-125.86;
Annual profit: -10.79%;
Previous day's change (%): -1.12.

Analytical review:
The currency steadied at a local resistance level of 111.40. In the past 2 trading sessions, the yen has grown in price against the US dollar by over 200 points;
The demand for safe harbour currency is supported against a background of Japan's security market slump. Nikkei 225 dropped by 1.62% during yesterday's trading session;
Important statistics on the US economy were released yesterday. According to the Supply Management Institute, the manufacturing business activity index grew to 51.3 points in May as compared to April's value of 50.8;
The Commitments of Traders Report shows that important market operators have increased the number of their long positions by 32088 contracts to 88138 contracts. The number of short positions amounts to 110779 contracts;
US important economic statistics are expected to be published this week, which may affect the currency rate evolution. Non-farm payrolls are to be released on Friday, 3d June.
Summary:
Positive macroeconomic data from the USA, negative trend on Japan's security market and increased volatility on financial markets put pressure on currency pair evolution;
According to the Commitments of Traders Report, important operators have boosted their long positions;
So, we recommend searching for market entry points from key support and resistance levels before non-farm payrolls are released.
Trading tips for USD/JPY
Key levels:
Support levels: 108.65, 108.00
Resistance levels: 109.15, 109.55
Long-term trading, D1
Until publication of non-farm payrolls on Friday 3d June, considerable changes in yen rate evolution should not be expected. Our current advice would be to avoid opening long-term trades in USD/JPY at the moment. Market entry points should be searched for once Friday's statistics are released, key support and resistance levels are retested and relevant confirmations appear (Price Action patterns, for example).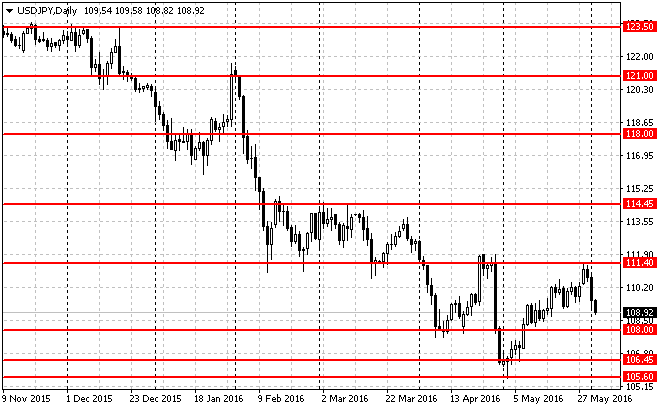 Long-term trading, D1
Short-term trading, M15
The currency is trading at 108.85-109.30. Once the lower border of the trading range at 108.85 is broken and tested, we recommend searching for market entry point to open short positions. Risk per trade: no more than 3% of equity. Stop order shall be placed a bit above the signal line. We recommend that prospective profits should be fixed partly at the levels of 108.40, 108.10 and 107.80, with Trailing Stop applied.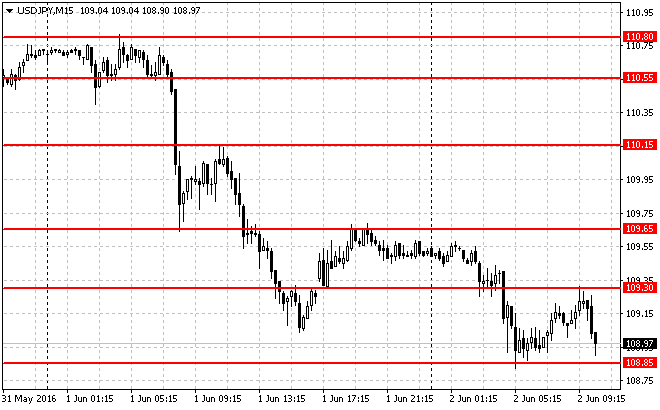 Short-term trading, M15