Technical indicators of the currency pair:

Prev. closure: 1.1153;
Daily range: 1.1142-1.1159;
Opening 1.1153;
52-week range: 1.0538-1.1713;
Annual profit: 1.05%;
Previous day's change (%): -0.32.

Analytical review:
The currency pair has been trading in a range of 1.1100-1.1215 for the past two weeks. During yesterday's trading session, the currency managed to hold the upper border of the trading range, and therefore the Euro dropped 0.32%;
ECB kept interest rate at the previous level of 0.00%, as expected. ECB Head Mario Draghi announced at a press conference that interest rates would be kept low for a long time;
According to ADP data, the employment rate in the US private sector grew by 173000 in May against April's value of 166000. Market expectations were at a level of 175000;
The Commitments of Traders report indicates an ambiguous situation. Huge operators increased long positions by 12234 contracts. Short positions were increased by 1499 contracts;
US important economic indicators (non-farm payrolls) which may have a big effect on the currency rate evolution are to be released today.
Summary:
Maintenance of ECB policy, upbeat statistics from the USA, eventual interest rate rise by FED and the ambiguous situation in the global economy put pressure on the euro;
According to COT report, huge operators are not definite about the Euro;
Before non-farm payrolls are published, no definite trend movement should be expected. We recommend searching for market entry points to open speculative trades on smaller timeframes.
Trading tips for EUR/USD
Key levels:
Support levels: 1.1100, 1.1060
Resistance levels: 1.1215, 1.1285
Long-term trading, D1
Before non-farm payrolls are published today, no substantial changes in the Euro rate evolution should be expected. Our current advice would be to avoid opening long-term trades in EUR/USD at the moment. Market entry points should be searched for once the statistics are released, key support and resistance levels are retested and relevant conformations appear (Price Action patterns, for example).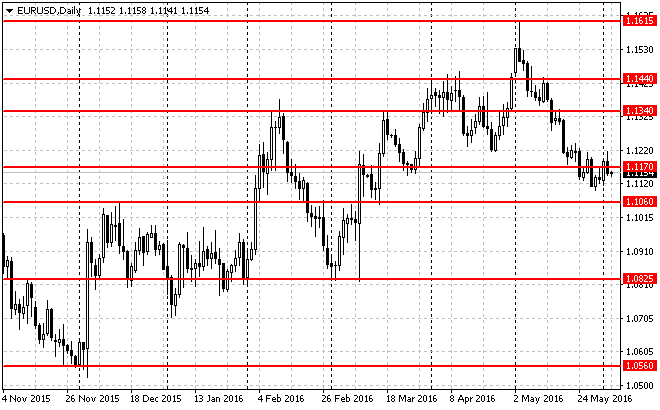 Long-term trading, D1
Short-term trading, M15
The currency is trading at 1.1145-1.1170. We advise you to search for market entry points once this zone is broken and tested. Positions shall be opened in the direction of the signal line and the nearest support/resistance level. Risk per trade: no more than 3% of equity. Stop Order shall be placed a bit above/below the signal line. Prospective profits shall be fixed partly, at 50%, 30%, and 20% of a prospective fluctuation, with Trailing Stop applied.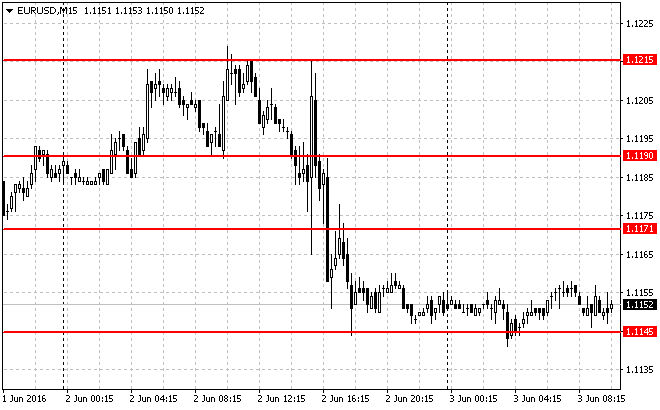 Short-term trading, M15