Alcoa Inc., #AA [NYSE]
Manufacturing, Aluminium, USA

Financial performance:
Index – S&P 500;
Beta – 1.14;
Capitalization - 177.42 В;
Assets profitability: -0.50%;
Income: -322.00 М;
Average volume – 34.20 М;
P/E - ;
ATR – 0.50.

Analytical review:
The Company has the biggest capitalization in the "Aluminium"sector among the issuers listed on the US stock market;
According to the latest report on the first quarter 2016, the company's revenue decreased by 15% from 5.82 billion USD to 4.95 billion USD. However, the EPS factor (earning per share) amounted to 0.07 USD, which is 0.02 USD better than market expectations;
The industrial giant's results are greatly influenced by aluminium prices evolution. Since the beginning of June, the rise in aluminium quotes at LME has exceeded 3%, which will have a positive effect on Alcoa's financial performance in the nearest future.;
In January 2016, the company signed a long-term $2.5 billion agreement with Boeing (#BA) to supply details for airplane manufacturing. Also, Alcoa had signed a contract valued at more than 1billion USD with Airbus. Alcoa's production will be 3D printed and involve the latest technologies;
More than 60% of the company's stock belongs to institutional investors. The biggest shareholders are Vanguard Group (8.75%) and Elliott Management Corporation (5.90%).
Summary:
Despite the cut in income, the company's net profit exceeded market expectations. The company's growth potential is quite significant. Realization of partnership agreements, increase in demand and positive evolution of aluminium prices will consolidate investors' confidence.
Thus, we expect that the company's quotes will be rising in the nearest future.
Trading tips for Alcoa Inc.'s CFDs

Key levels:
Support levels: 9.20 USD, 7.80 USD
Resistance levels: 10.00 USD, 11.40 USD

Long-term trading, D1
The issuer is currently trading near a resistance level of 10.00 USD. Once this level is broken and tested, and relevant confirming signals appear (Price Action patterns, for example), we recommend searching for market entry points to open long positions. Risk per trade: no more than 2% of equity. Stop order shall be placed a bit below the signal line. We recommend that prospective profits should be fixed partly at the levels of 10.95 USD, 12.00 USD and 13.10 USD, with Trailing Stop applied.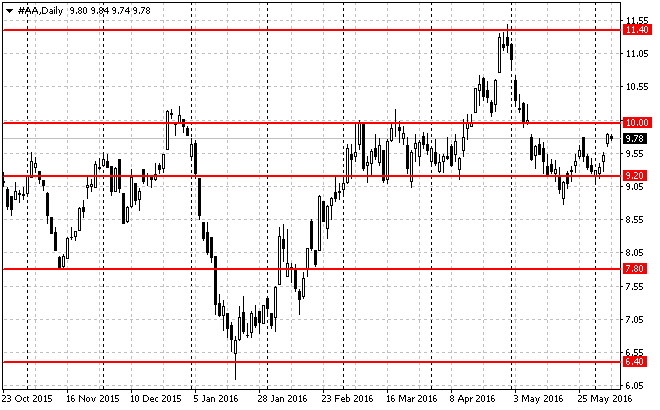 Long-term trading, D1
Short-term trading, M15
The issuer has been trading in a range of 9.75-9.85 USD for the past 2 trading sessions. We advise you to search for market entry points once these levels are broken and tested. Positions shall be opened in the direction of the signal line and the nearest support/resistance level. Risk per trade: no more than 3% of equity. Stop order shall be placed a bit above/below the signal line. Prospective profits shall be fixed partly, at 50%, 30%, and 20% of a prospective fluctuation, with Trailing Stop applied.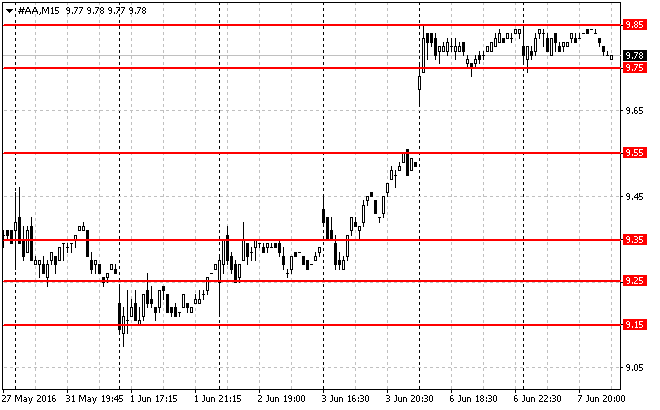 Short-term trading, M15