McDonald`s Corp., #MCD [NYSE]
Services, Restaurants, USA

Financial performance:
Index –DJIA, S&P 500;
Beta – 0.49;
Capitalization - 108.94 В;
Assets profitability - 13.50%;
Revenue - 4.53 B;
Average volume – 7.04 М;
P/E - 23.64;
ATR – 2.52.

Analytical review:
The Company has the biggest capitalization in the "Restaurants"sector among the issuers listed on the US stock market.
According to the latest report on the first quarter of the fiscal year 2016, the company's revenue amounted to 5.90 billion USD against a market expectation of 5.87 billion USD. MCD announced a net profit of $1.23 per share, which is better than a forecast value of $1.16 per share.
The Company's Return on equity and investments is the highest in the industry. Return on investments amounts to 15.96% and Return on equity - to over 60%, while the average values for this industry equal 9.35% and 14.74%, respectively.
The company's work efficiency is confirmed by high operating and net profit margins (29.74% and 18.99%, respectively) as compared to competitors' respective results (7.05% and 5.09%).
Another driver pointing at an eventual increase in the company's cost is P/E Ratio. MCD's P/E Ratio (23.64) is much lower than the average P/E in the industry (199.58) and in the sector (26.65), which suggests a further growth of the company's quotes.
More than 65% of the company's stock belongs to institutional investors. The biggest shareholders are Vanguard Group (7.02%) and State Street Corporation (4.92%).
Summary:
McDonald`s Corp.'s recent report proves that the company's management has been working efficiently. The analysis of multipliers indicates the probability of the company's capitalization growth. Major part of the Company's stock belongs to big investment funds.
Thus, we expect that the company's quotes will be rising in the nearest future.
Trading tips for McDonald`s Corp.'s CFDs

Key levels:
Support levels: 122.40 USD, 120.85 USD
Resistance levels: 124.70 USD, 126.30 USD

Medium-term trading, H1
The issuer has broken a local resistance level of 122.40 USD and steadied above. Once a mirror support level of 122.40 USD is retained and relevant confirming signals appear (Price Action patterns, for example), we recommend searching for market entry points to open long positions. Risk per trade: no more than 2% of equity. Stop order shall be placed a bit below the signal line. We recommend that prospective profits should be fixed partly at the levels of 124.60 USD, 126.25 USD and 128.50 USD, with Trailing Stop applied.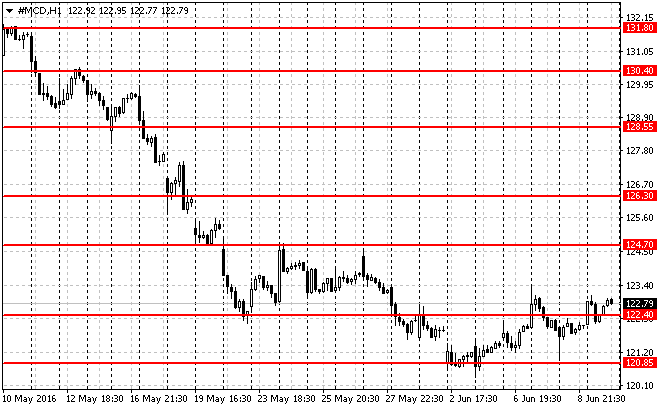 Medium-term trading, H1
Short-term trading, M15
On the 5M time-frame, the issuer is currently trading between the local support and resistance levels of 122.15/123.05 USD. We advise you to search for market entry points once these levels are broken and tested. Positions shall be opened in the direction of the signal line and the nearest support/resistance level. Risk per trade: no more than 3% of equity. Stop order shall be placed a bit above/below the signal line. Prospective profits shall be fixed partly, at 50%, 30%, and 20% of a prospective fluctuation, with Trailing Stop applied.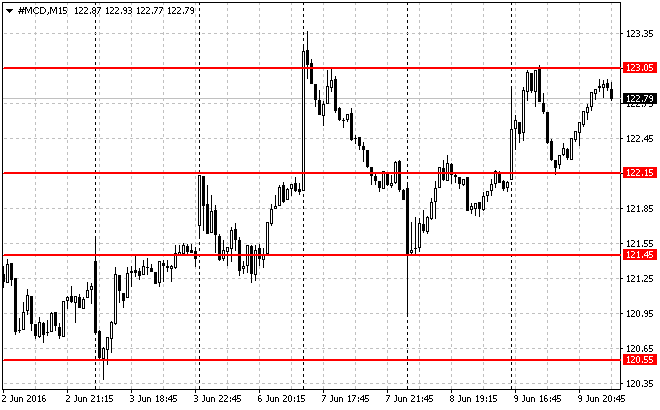 Short-term trading, M15