Review and dynamics
Amid enhancing uncertainty in the financial market and increasing demand for the safe-haven assets, and following upward correction in May, the pair USD/JPY is going down again. The price has already reached the annual and May lows at the level of 105.50 and continue to decline. Finance Minister of Japan Mr. Taro Aso said today, that the bank was ready to carry out intervention to the currency market.

Our opinion
Negative fundamental factors have strong negative impact on the pair USD/JPY.

In case of breakout of the level of 105.50, the price may continue to fall to support levels of 104.50 (ЕМА200 on the monthly chart) and 103.70 (ЕМА144).

On the daily, weekly, monthly and 4-hour charts the indicators OsMA and Stochastic suggest to open short positions.

If the price reaches the levels of 104.50 and 103.70, it may sharply rebound, and at the same time, the Bank of Japan may launch intervention if the price reaches these levels.

However, it is difficult to predict up to what level the price may rebound. Meanwhile the fundamental factors are in favour of the "bears".

If the pair breaks down the level of 103.70, the pair can go to the bottom limit of the downward channel at the level of 102.80 on the weekly chart.

As an alternative scenario in case of the rebound, the pair may rise up to 108.00 (ЕМА200 on the weekly chart), 110.80 (ЕМА144 on the weekly chart and Fibonacci 23.6% to the decline since June 2015 from the level of 125.65).

If the pair consolidates above the level of 110.80, the price may go up to the levels of 112.00, 113.65 (Fibonacci 38.2%) and 114.20 (ЕМА200 on the daily chart).

Support levels: 106.00, 105.50, 105.00, 104.50 and 103.70.
Resistance levels: 108.00, 109.50, 110.00, 110.20, 110.80, 112.00, 113.00, 113.65 and 114.00.

Trading tips
Buy Stop: 106.60. Stop Loss: 105.90. Take-Profit: 108.00, 109.00, 109.50, 110.00, 110.20, 110.80 and 112.00.
Sell on the market. Stop Loss: 106.50. Take-Profit: 105.65, 105.00, 104.50 and 103.70.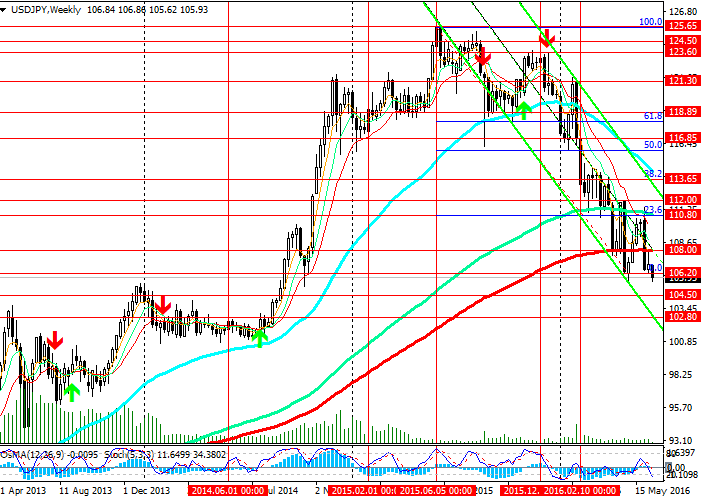 In the downward channel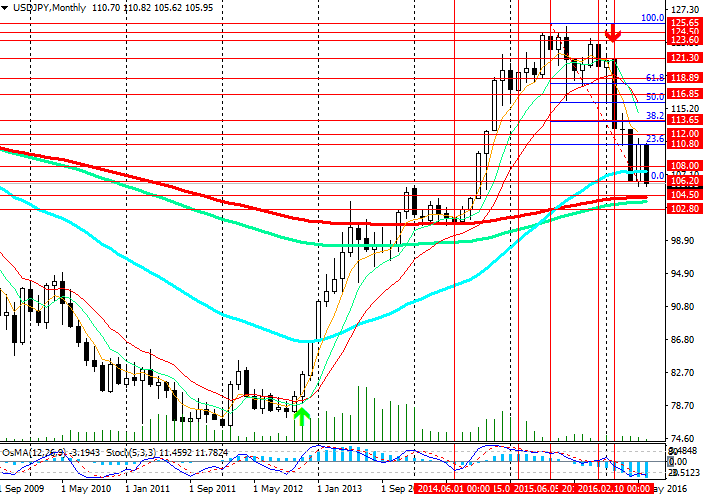 To support levels of 104.50 and 103.70